I must say I am so glad I work way ahead on my Design Team challenges as I have been really sick for 5 days. Leave it to me to get a child's disease that adults rarely get -Hand, Foot and Mouth. If you don't know what it is you get blisters all over your mouth, tongue, palms and sole of your feet. It is really unpleasant and doctor says I have a really bad case which will last for 7-10 days. So with that said I have not been scrappin at all. Not sure which is driving me crazier the virus or not feeling like crafting.
I made two easel cards for the Card Outreach for the two girls that are battling cancer. The first is for Emily who I have already been in two blog hops for. Emily's aunt Michelle is on Lasting Memories Design Team with me.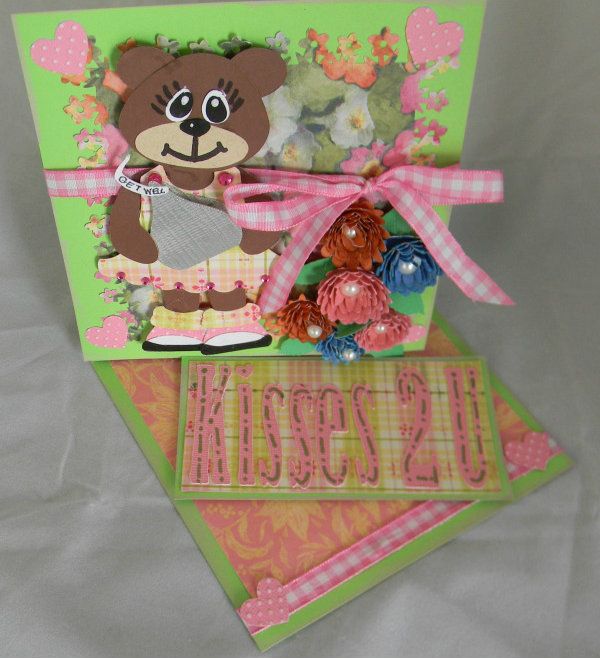 Bear Kisses for you is a Paper Crafting World file
The kiss is cut from duct tape sheets
I used a MS punch, gems, punched hearts and ribbon
Little flowers with pearls from Flower Shoppe
Also entering this card in
Exploring Cricut
challenge which is to use a Cricut Flower
The second card is for another girl who is 13 and also fighting cancer.
I used Rock Princess for this card and am entering this is the
Girls Rock p. 68 cut at 2.3 inches
Wings and heart page 54 cut at 3.4 inches
Then I added gems, ribbon and punched hearts from scraps
I hope you will join us this week for the challenge and send these girls cards. Please check for all the details on
Cooking with Cricut
and I will look forward to seeing what you do. Happy Craftin!