Welcome to the "All I Want for Christmas" Blog Hop!!
We're so happy you could join us for this super-fun hop showcasing cards, layouts and projects that feature everything about what these ladies want for Christmas!! You'll find an array of ideas throughout the hop -- We hope you'll enjoy each and every project along the way!!
If you've hopped over from
Theresa http://
www.thescrapbookingqueen.com
, then you are in the right place!! If you've just popped in to visit my blog or are reading this via email and you'd like to join our All I Want For Christmas FUN, then please CLICK HERE
http://handmadewithlove-lisa.blogspot.com/
at Lisa's blog!! Keep alert for blog candy along the way as some hop stops will be offering some goodies...
For my Blog Candy at Cricutcraftingrammy I will be selecting a winner from all my blog hop comments this month. So make sure you have left a comment on December 2, 9, 10 and the 15th. That will give you four chances to win. I will draw the random winner on the 17th using Random.org. The winner will receive a $10 gift certificate from Michaels or Joanns (your choice)
SPECIAL REQUEST:
Before I share my project I would like to ask you to check out my friend
Brenda's blog
. A friend of Brenda's nephew who is 12 years old has been diagnosed with cancer. He will be starting chemo and she is asking for anyone who wishes to send him cards to get him through this tough time. So if you have any extra cards or would like to make one please check this out and join me in sending Chris a card. Thanks you so much.
For the hop today, I've created a Rosette Christmas Tree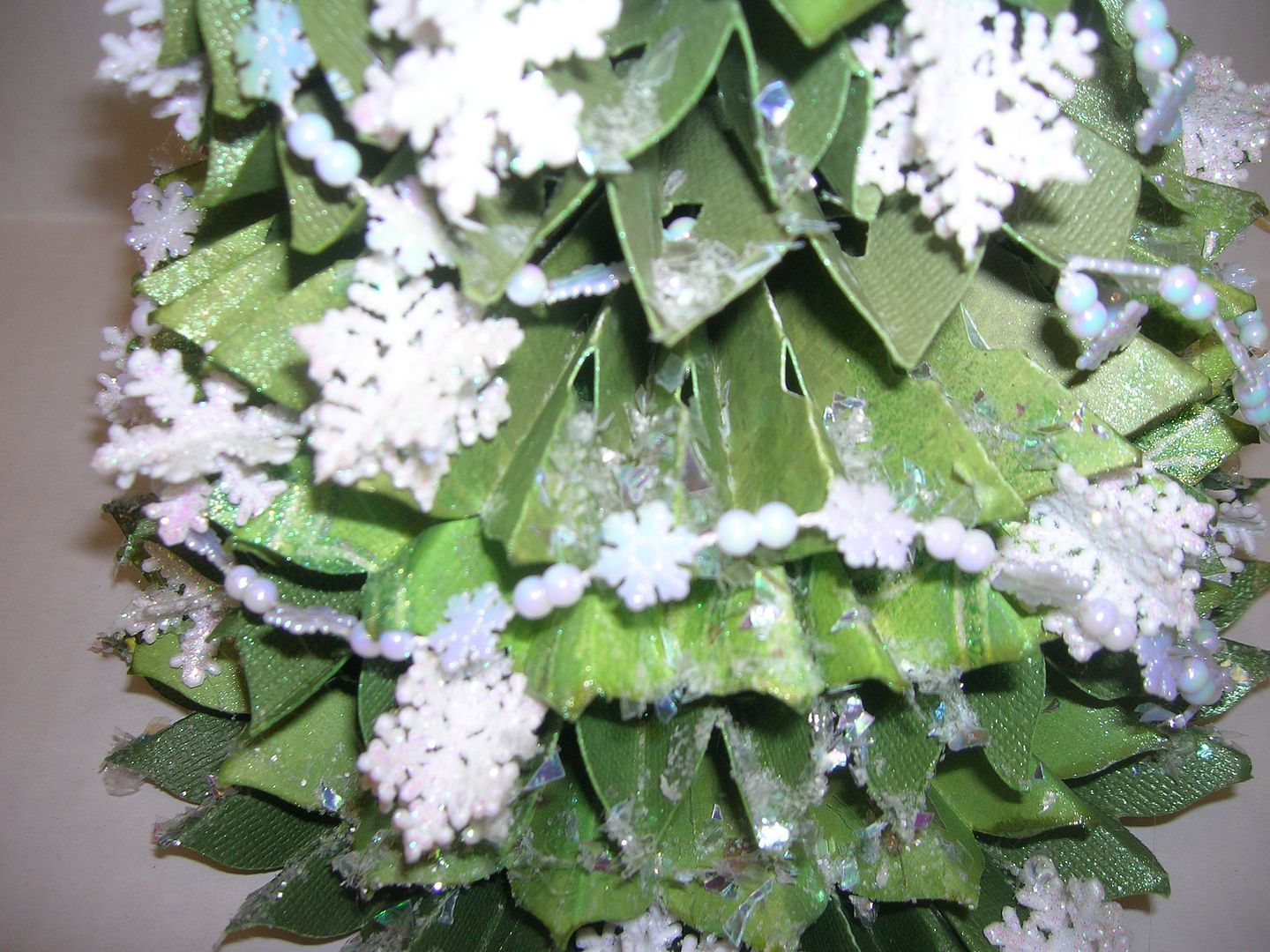 Ribbons and Rosettes Cricut Instructions
For this tree I cut three each at 11.5 long of 3.5, 3.25, 3.0, and 2.75
These are then scored at 1/2 inch with a scoreboard and folded accordian fold.
Then glue the three pieces together to perform a ring and glue down to a circle
I then cut two each at 11.5 of 2.5, 2.25, 2.0, 1.75. and 1.50 and scored at 1/2 inch and made rosettes
For the top I used Tim Holtz rosette die cut with my Cuttlebug there are 3 sizes.
These are automatically scored at 1/4 inch.
No Ribbons and Rosettes cartridge
Cut 12 inch strips of paper at the same sizes above. You can leave edges straight or punch with a punch to decorate edge.
I then stacked the rosettes by size and decorated with glitter, snow, snowflakes and a snowflake garland I had in my stash.
To be eligible for the grand prize blog candy, you MUST visit my blog and leave a comment on my blog for the day and also become a follower at "Scrapping With Lisa" and my facebook page: http://www.facebook.com/pages/Scrapping-with-Lisa/130882060268842. Please let me know if you don't do facebook and I won't count that against you for the blog candy. Now for the blog candy, I bet you are wondering what it could be. It will be a mini paper bag album that will come with all the pieces you would need to assemble the mini album.
Here's a list of the entire hop, in case you get lost along the way or want to revisit anyone:
Lisa http://
handmadewithlove-lisa.blogspot.
com/
Berenice http://
karbersweetescape.blogspot.com/
Paula http://
www.scrapyourworld1.blogspot.co
m
April http://
www.curlsandgrins.blogspot.com/
Jamie http://
myamusinglife.blogspot.com
Anita http://anitaandbugs.blogspot.com/
Gina http://californiascrappin-gcinderella21.blogspot.com/
Melinda http://thepaperthumb.blogspot.com
Shawnee http://www.blessedonthebrightside.com
Rachelle http://www.creationsbyrachelle.blogspot.com
Indira http://craftyhomemade.blogspot.com/
Barbara http://barbarab3.blogspot.com/
Christina http://cema1cema.blogspot.com/
Theresa http://www.thescrapbookingqueen.com
Suzanne http://www.cricutcraftingrammy.blogspot.com/
Sherry http://www.upordowntheyrebeautiful.blogspot.com/