I was so thrilled to get to sit down the last few days and scrap some pics of my granddaughters. My husband and I went to the Long Beach Aquarium in November with our 3 granddaughters and one daughter and her husband. We had a great day, got some great pictures and the two older girls really enjoyed the fish and the Lorakeets. I knew the Savvy Davvy Quick Quotes paper I recently bought would be perfect for these pics with their bright colors.
Link to paper
On the left I used the quote on the paper "miracle and wonder" which was perfect. The "So Amazed" is Tim Holtz Chipboard sprayed with Tattered Angels Glimmer Mist Candy Apple Red. I also used the Glimmer Mist on white flowers to match the colors of the paper. The frame around the picture on the right was cut and glued together to fit the picture. These were some scraps I had from a Quick Quotes class I took. The ribbon is from Michaels.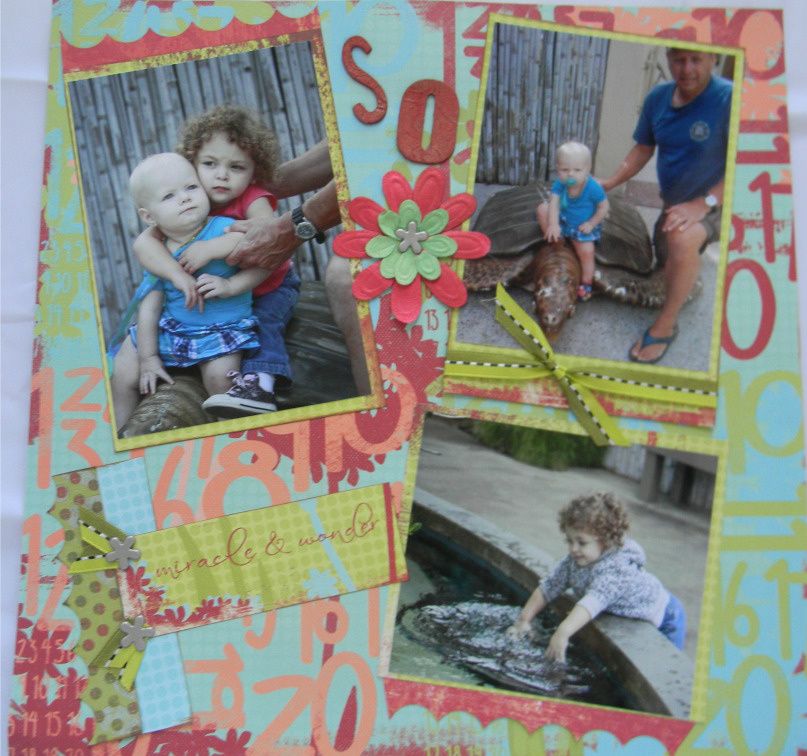 On the right side I used a technique I learned in the Quick Quotes class. I cut a piece at 10" x 9" and folded it in 1/2 to make a booklet. This is glued t the top so the protective layout cover can still go over all but the flap. The green strip was an MS punch. I also used some flower brads from my stash.
This is booklet or flap closed.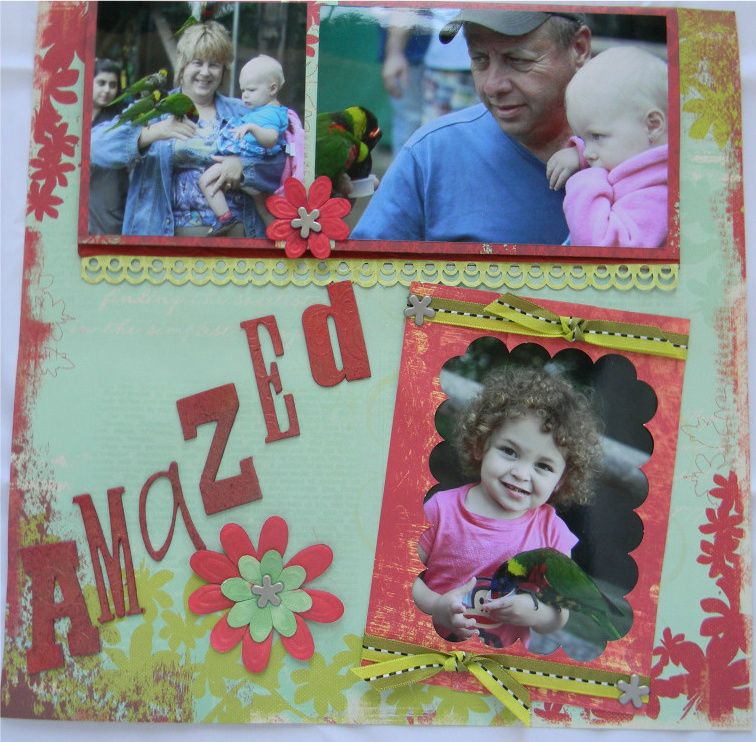 This is flap open for four more pictures. Sorry the picture color is so weird. I am learning to use my new camera that I got for Christmas. LOL
I am still amazed how much the girls loved the birds and they had so much fun feeding them.
I am entering this in the
Paper Issues
Challenge "We've Got Your Number" since this paper has numbers all over it and the
More Than Favors
Linking Party.