Hello crafty people! This week for the
Sweet Sassy Diva Design Team
post are "All About Mom". For my project I decided to make a card for one of my daughters.
A pretty quick and simple card so no tutorial this week.
I used Car Decals to give the card a little personal touch this year.
The little girl was cut from page 53 at 3 inches and the pregnant mom is cut from page 47 at 3.5 inches. I then added some ribbon, buttons, a MS flower punch, Stickles and googly eyes.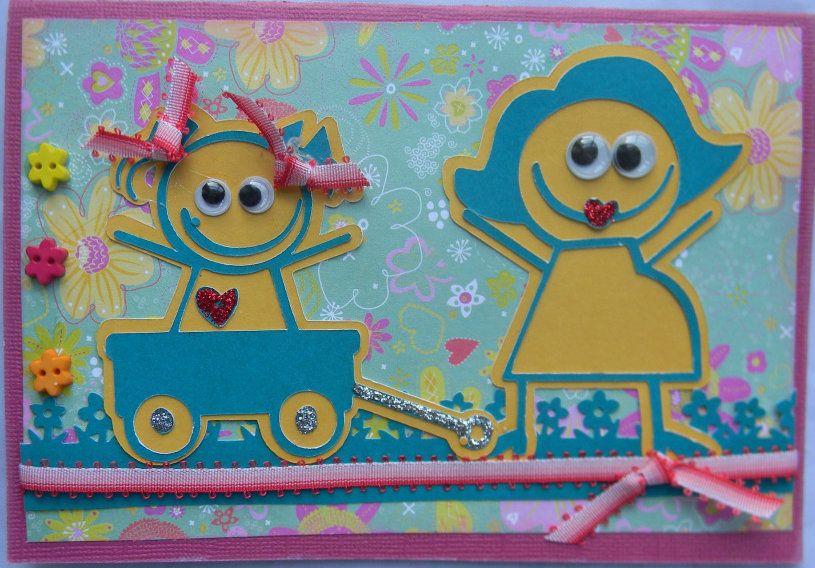 This is the inside cut from the Floral Embellished cart page 53 cut at 3.5 inches. This phrase was perfect as my granddaughter who is almost 18 months old calls her mom Mama. I added a flower to the center and cut more flowers with my MS punch. Floral Embellished is an awesome cart for phrases about Mom, grandmas, etc.
Here is a picture of my oldest daughter Danielle with her daughter Kenzie. Aren't they just two peas in a pod? Danielle is expecting her second child in October so we are quite excited.
UPDATE ON MY POST: WE NOW KENZIE WILL HAVE A BROTHER IN OCTOBER. AFTER HAVING TWO DAUGHTERS AND THREE GRANDDAUGHTERS IN TWO YEARS WE ARE REALLY EXCITED.
Hope you will stop by all week to see what the DT members have in store for you. I am wishing you all a very Happy Mother's Day. Big crafty hugs- Suzanne