Click on
Beginning of Hop
to reach the linkz tool to see the other cards in the hop.
I am delighted to participate in the Operation Write Home World Cardmaking Day Blog Hop. The mission of this organization is to support out troops armed forces by s ending blank handmade greeting cards to write home on, as well as cards of gratitude to encourage them.
I have participated with another group Cards for Soldiers that also does the same thing. This is a great way to share the love with the men and women serving our country. Plus it is a lot of fun to make different cards and a great way to keep your scrap pile from taking over your craft space.
One reason this is near and dear to my heart is I was a military wife for 7 years. I know how much the men and women who serve in the Armed Forces and their families give up serving their country. It is a big sacrifice and we need to be thankful for all they do.
This is my card for today. It is 5 x 7 card. I cut the gate and gate shadow at 6 inches from the Cricut cart Ornamental Iron. I then cut a 3 inch circle from George with a 1 1/2 inch circle in the center. To form the wreath and garland I punched 6 different green scraps with the Martha Stewart Branch Punch. Using different colors makes it look more realistic and dimensional. I then began gluing the branches around the circle to form the wreath and along the top of the gate to form the garland. I added ribbon and 2 Pointsettia Primas. I used a scrap of the same gold paper I used for the gate for my stamp background and added two tiny red glittered brads. You can also add bling to the wreaths if you want.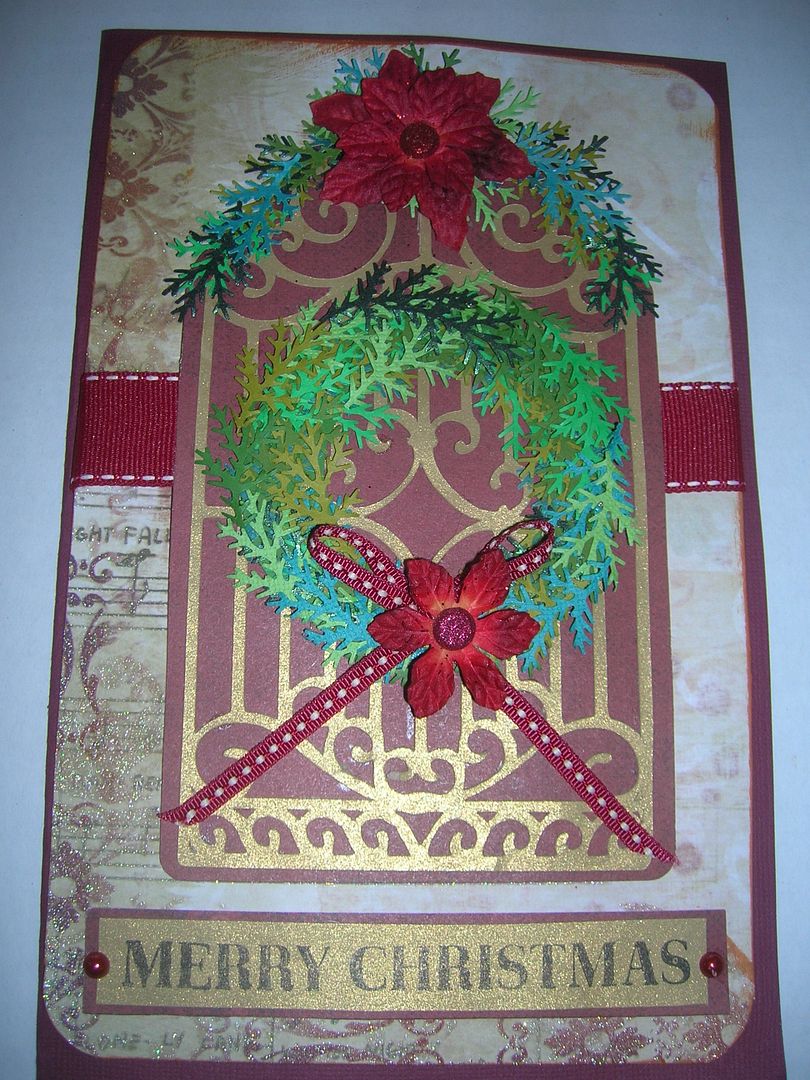 Detail pic of wreath and garland.
I am also entering this in the Cricut Circle Blog Weekly World Cardmaking Day challenge and My Pink Stamper Christmas Card challenge.
I hope you enjoyed my card. Would love to have you come by again and check out my blog some more. I am looking forward to seeing everyones great cards.
Happy Craftin