We're so happy you could join us for this super-fun hop showcasing cards, layouts and projects that are All About Fall!! You'll find an array of ideas throughout the hop -- From decorations to gift ideas and more, we hope you'll enjoy each and every project along the way!! This is a TWO-DAY hop, so be sure to catch both days for maximum ideas (you'll find the entire line-up below my post)!!
Before the leaves change color and fall... let's get hopping!! If you've hopped over from Lisa -
http://handmadewithlove-lisa.blogspot.com/
, then you are in the right place!! If you've just popped in to visit my blog or are reading this via email and you'd like to join our All-About-Fall FUN, then please
CLICK HERE
to start at the beginning with
Lynda's blog
because... Starting at the start is always SMART!! :) We have a WONDERFUL Grand Prize for one lucky hopper today -- A $25 Gift Certificate for Designs On Cloud 9!! To be eligible, please visit each "Blog Hop Stop" and leave a comment!! One random winner will be chosen on Wednesday, September 21st (giving you plenty of time to finish the hop)... For more details on what you could choose if YOU are the winner, please be sure to visit our sponsor.
Thank you everyone for your great comments yesterday. I got so many great ideas and I am sure you did too. For the hop today, I've created a Fall charger decorative plate and card. I made charger plates last year for a Christmas boutique and they were very popular. This week at Michaels they have Fall color charger plates 2 for $3.
The center circle measures 8 inches so I cut Count your Blessings from the Thanksgiving Cricut cart at 7 inches with gold vinyl. I then weeded the vinyl and put it on transfer tape.
I then added leaves (Me and My Big Ideas Mambi Chips) and acorns and pine cones (Mambi stones). These are all from Michaels in the scrapbook Fall section.
I made a card to match so I could give this as a gift. I used the Brocade Window Cuttlebug Embossing Plus folder. The pattern papers are DCWV Harvest stack from Joanns. I used more of leaves left from plate, some ribbon, and inked paper with Tim Holtz Rusty Hinge ink. The Thanks stamp is from Joanns dollar bing and the Happy Fall Y'all is from Pink Cricut.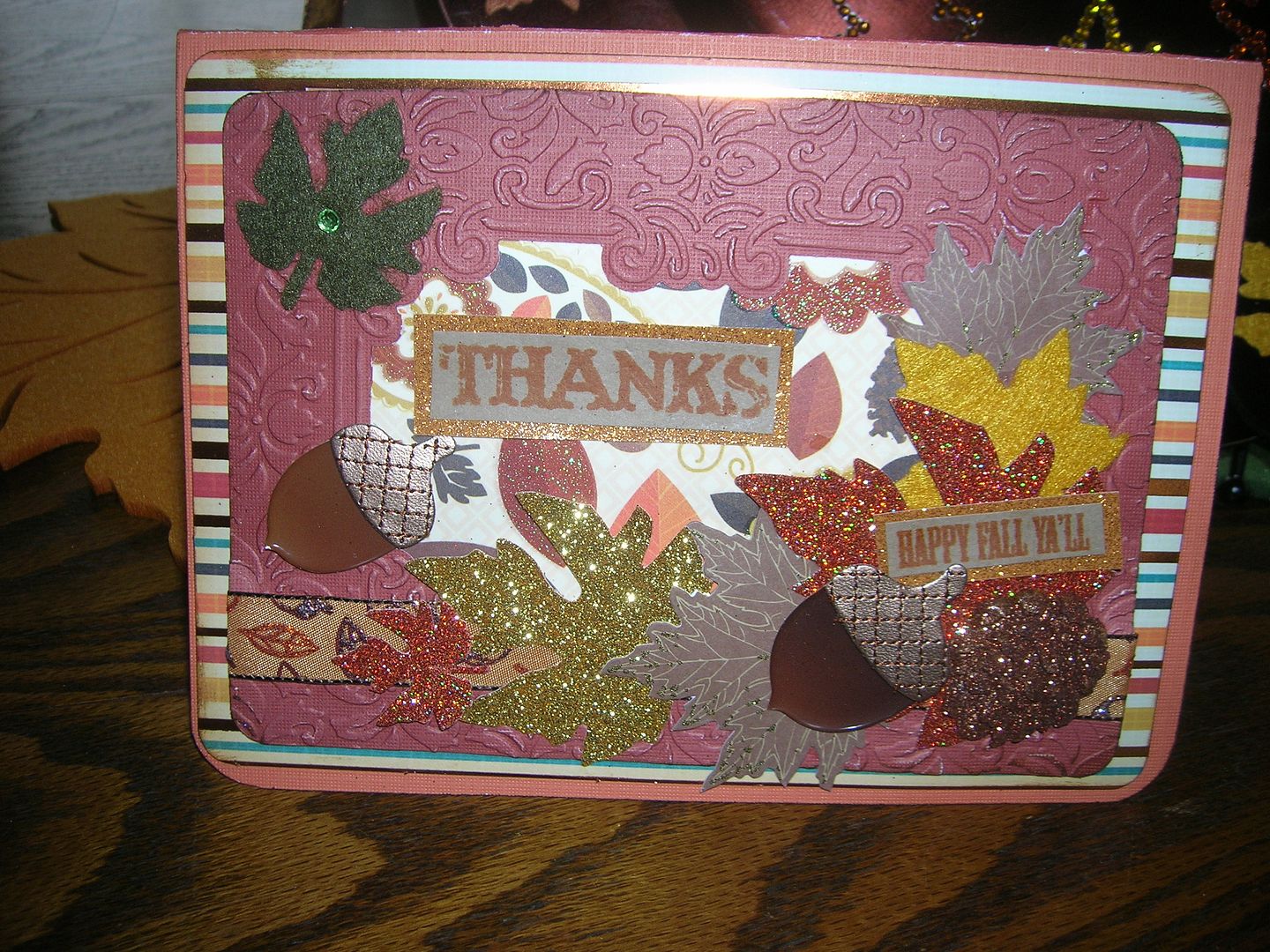 I hope you liked my project and have enjoyed all the great Fall projects these past two days. If you missed the projects yesterday make sure you go through the Day 1 hop too. There were so many amazing projects.
I am entering this in the
Love to Crop Challenge.
Happy Fall You All
For my blog candy I will choose a winner by Random.org on Monday September 19th. To be in the drawing I ask that you leave a comment and that you are a follower of my blog. ( I love comments and followers !) The winner will receive a $10 gift card from their choice of Michaels or Joanns.
Thank you again for checking out my project... So glad you made it this far.
Your next stop is Dana at http://www.danascraftycorner.blogspot.com /
Remember to visit all the stops for more chances to WIN!! Have fun and Happy craftin.
Here's a list of the entire hop, in case you get lost along the way or want to revisit anyone -- I've included BOTH days of the hop so you'll be sure not to miss a THING!!
Remember today we are on Day 2 list.
DAY ONE (September 15)
1. Lynda -
http://memoriesintyme.blogspot.com/
2. Amy -
http://www.lovetocrop.com
3. Removed
4. Removed
5. Anita -
http://www.anitaandbugs.blogspot.com
6. Kari -
http://purplefuntastickcreations.blogspot.com/
7. Lori -
http://scrappinmystressaway.blogspot.com
8. Removed
9. Indira -
http://craftyhomemade.blogspot.com/
10. Kacee -
http://youhadmeatscrap.blogspot.com
11. Bobbi Jo -
http://sweetsassydiva.com
12. Rhonda -
http://scraphappenswithrhonda.blogspot.com/
13. Susan -
http://susanascorner.blogspot.com/
14. Lynne -
http://slasewcraftiness.blogspot.com/
15. Rhonda -
http://craftingwithblue.blogspot.com
16. Sandy -
http://thecraftycreationspot.blogspot.com/
17. Lisa -
http://prettypaperprettyribbons.blogspot.com/
18. Deb -
http://www.scrappingmamma.net/
19. Dawn -
http://dawnsdesignsthatdelight.blogspot.com
20. Lisa -
http://handmadewithlove-lisa.blogspot.com/
21. Suzanne -
http://www.cricutcraftingrammy.blogspot.com
DAY TWO (September 16)
1. Lynda --
http://memoriesintyme.blogspot.com/
2. Sylvia -
http://www.bellascrapbookdesigns.blogspot.com
3. Nancy -
http://blog.fancywithnancy.com
4. Jen-
http://www.jenscraftcorner.com
5. Vicki -
http://mawmawsthoughts.blogspot.com/
6. Kathy -
http://the3esblog.blogspot.com/
7. Deborah -
http://www.scrappingmamma.net/
8. Lisa -
http://handmadewithlove-lisa.blogspot.com/
9. Mindy -
http://cvceggen.blogspot.com/
10. Janet -
http://ladyluvbug.blogspot.com/
11. Carol -
http://huffandpuffscrap.blogspot.com/
12. Pam -
http://www.pammejo-scrapbookflair.com/
13. Brenda
http://createbyburffrau.blogspot.com
14. Suzanne -
http://www.cricutcraftinggrammy.blogspot.com/
15. Dana -
http://www.danascraftycorner.blogspot.com/