Welcome to the "All About Fall" Blog Hop!!
We're so happy you could join us for this super-fun hop showcasing cards, layouts and projects that are All About Fall!! You'll find an array of ideas throughout the hop -- From decorations to gift ideas and more, we hope you'll enjoy each and every project along the way!! This is a TWO-DAY hop, so be sure to catch both days for maximum ideas (you'll find the entire line-up below my post)!!
Before the leaves change color and fall... let's get hopping!! If you've hopped over from Lisa -
http://handmadewithlove-lisa.blogspot.com/
, then you are in the right place!! If you've just popped in to visit my blog or are reading this via email and you'd like to join our All-About-Fall FUN, then please
CLICK HERE
to start at the beginning with
Lynda's blog
because... Starting at the start is always SMART!! :) We have a WONDERFUL Grand Prize for one lucky hopper today -- A $25 Gift Certificate for Designs On Cloud 9!! To be eligible, please visit each "Blog Hop Stop" and leave a comment!! One random winner will be chosen on Wednesday, September 21st (giving you plenty of time to finish the hop)... For more details on what you could choose if YOU are the winner, please be sure to visit our sponsor:
For the hop today, I've created ....... a Fall Topiary using the new Cricut Cart Flower Shoppe. I am been so excited to finally be able to share my project. I don't have an exact recipe for you but let me tell you this was a fun, fun project and you can make one yourself.
How I made the topiary:
1. I started with a 6 inch styrofoam ball which I painted (actually dabbed with a foam brush) with brown acrylic pain. I recommend this so the green or white does not show through. I then put flower foam in a pot (5 inch) I had and cut a dowel 14 inches. I also painted the dowel brown. I then put the dowel into the foam and into the pot.
2. The flowers are all cut from Flower Shoppe however you could use flowers from any cart. The largest size cut is 3 inches down to 1 1/2 inches. Each flower is 3 layers. I used the DCWV Fall Stacks both pattern paper and plain cardstock. I inked the flowers with Tim Holtz ink
3. The first crafting session I cut out a bunch of different cuts at 3 " and 2 1/2 ". That night I made the flowers and ended up with about 20. On the second day I glued them with the glue gun to the foam spreading similar flowers around the ball. I had a lot of holes so I made more flowers 2 inches 1 1/2 inches to fill in spaces. Many of the flowers centers are made with with spiral cuts and twisted with quilling tool. I also added gems to some of smaller flowers.
4. I decided to wrap ribbon around the dowel that I bought last year and then made a large bow. I also dabbed the pot with a sea sponge with different Tim Holtz paint dabbers. To cover the foam in the pot I made a paper circle with dark orange and then added some fall leaves I had.
5. The large thick felt leaves on the table I found this week at my Albertsons grocery store.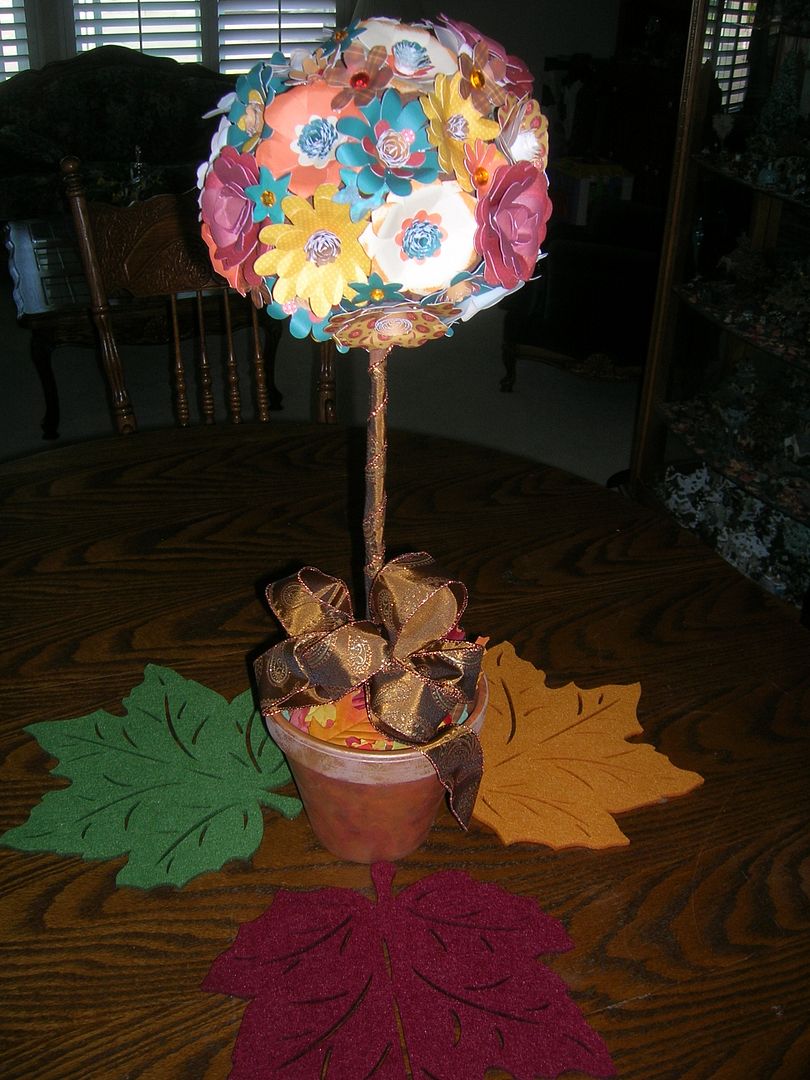 Closeup of flowers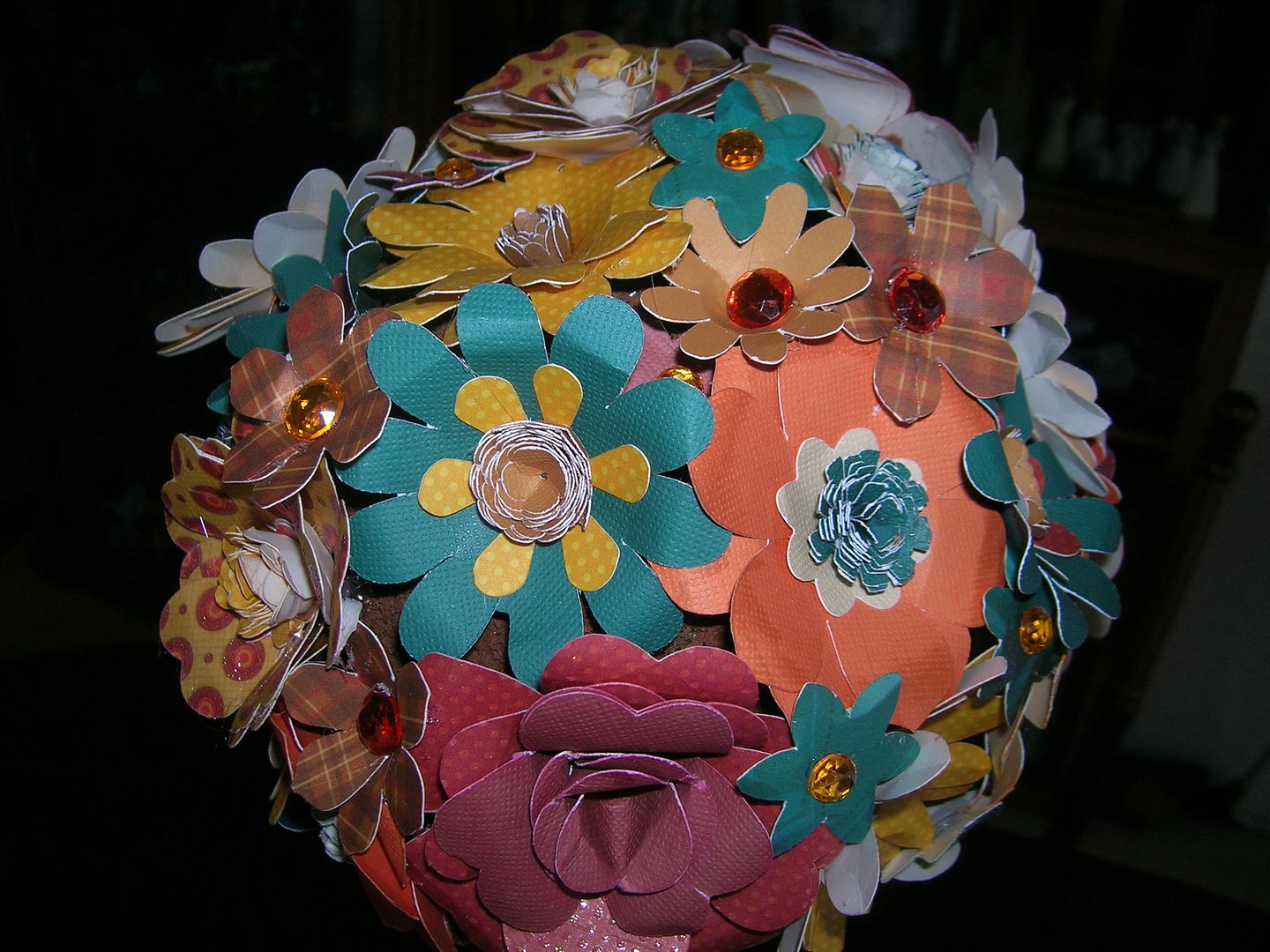 Another closeup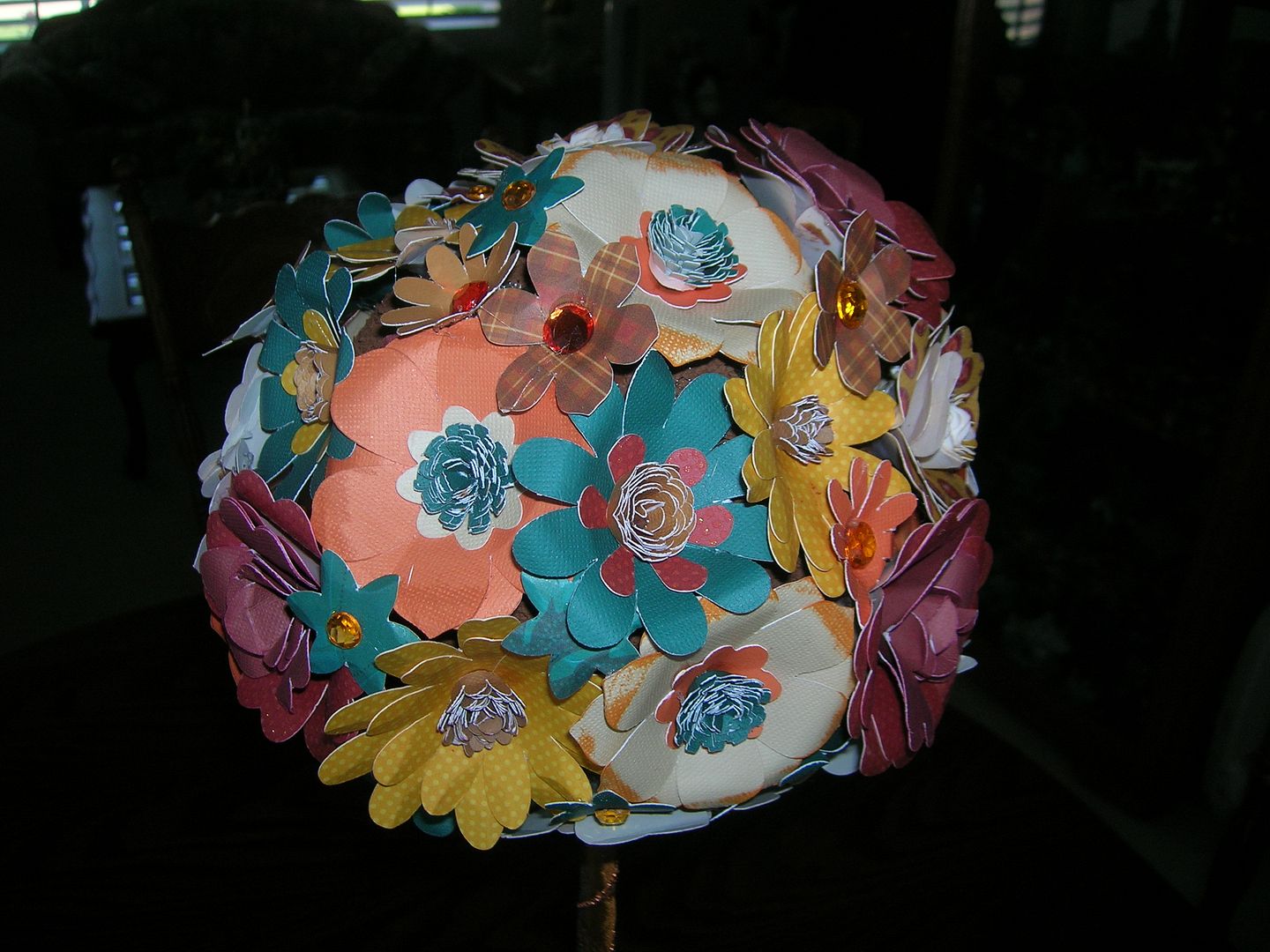 Pot and bow closeup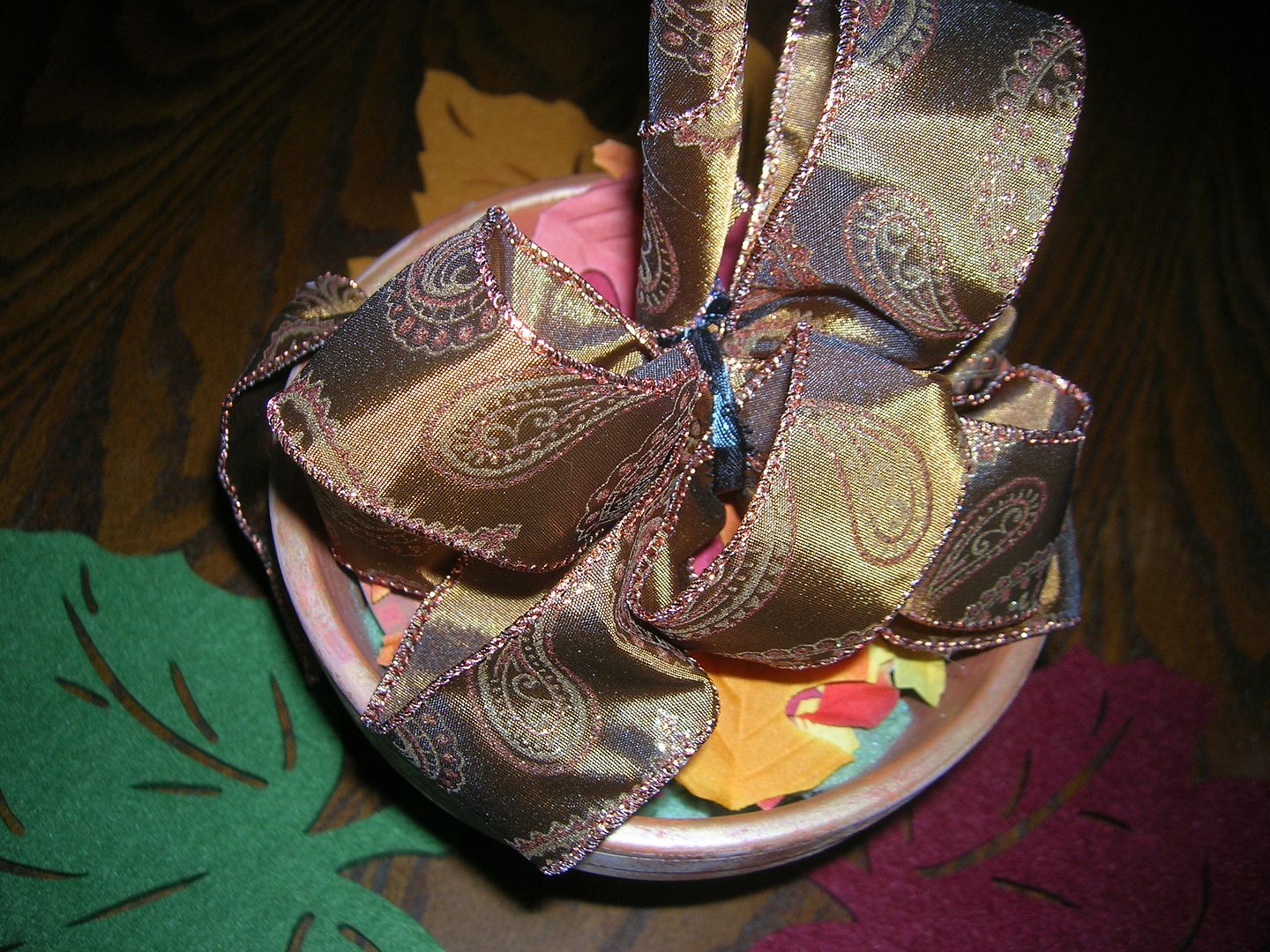 For my blog candy I will choose a winner by Random.org on Monday September 19th. To be in the drawing I ask that you leave a comment and that you are a follower of my blog. ( I love comments and followers !) The winner will receive a $10 gift card from their choice of Michaels or Joanns.
Thank you again for checking out my project... So glad you made it this far. Remember tomorrow will be day 2 of the Fall Hop and you will start with Lynda again--
http://memoriesintyme.blogspot.com/
Remember to visit all the stops for more chances to WIN!! Have fun and Happy craftin.
Here's a list of the entire hop, in case you get lost along the way or want to revisit anyone -- I've included BOTH days of the hop so you'll be sure not to miss a THING!!
DAY ONE (September 15)
1. Lynda -
http://memoriesintyme.blogspot.com/
2. Amy -
http://www.lovetocrop.com
3. Removed
4. Removed
5. Anita -
http://www.anitaandbugs.blogspot.com
6. Kari -
http://purplefuntastickcreations.blogspot.com/
7. Lori -
http://scrappinmystressaway.blogspot.com
8. Removed
9. Indira -
http://craftyhomemade.blogspot.com/
10. Kacee -
http://youhadmeatscrap.blogspot.com
11. Bobbi Jo -
http://sweetsassydiva.com
12. Rhonda -
http://scraphappenswithrhonda.blogspot.com/
13. Susan -
http://susanascorner.blogspot.com/
14. Lynne -
http://slasewcraftiness.blogspot.com/
15. Rhonda -
http://craftingwithblue.blogspot.com
16. Sandy -
http://thecraftycreationspot.blogspot.com/
17. Lisa -
http://prettypaperprettyribbons.blogspot.com/
18. Deb -
http://www.scrappingmamma.net/
19. Dawn -
http://dawnsdesignsthatdelight.blogspot.com
20. Lisa -
http://handmadewithlove-lisa.blogspot.com/
21. Suzanne -
http://www.cricutcraftingrammy.blogspot.com
DAY TWO (September 16)
1. Lynda --
http://memoriesintyme.blogspot.com/
2. Sylvia -
http://www.bellascrapbookdesigns.blogspot.com
3. Nancy -
http://blog.fancywithnancy.com
4. Jen-
http://www.jenscraftcorner.com
5. Dana--
http://danascraftycorner.blogspot.com
6.Nicolette-
http://www.beyondscrapin.blogspot.com
7. Vicki -
http://mawmawsthoughts.blogspot.com/
8. Kathy -
http://the3esblog.blogspot.com/
9. Deborah -
http://www.scrappingmamma.net/
10. Lisa -
http://handmadewithlove-lisa.blogspot.com/
11. Mindy -
http://cvceggen.blogspot.com/
12. Janet -
http://ladyluvbug.blogspot.com/
13. Carol -
http://huffandpuffscrap.blogspot.com/
14. Pam -
http://www.pammejo-scrapbookflair.com/
15. Brenda
http://createbyburffrau.blogspot.com