First of all I want to wish our very own Karen
Hope you have a lovely day and that next year
brings you many many blessings.
Hello everyone it's Sunday so it must be time for another
Lasting Memories
layout challenge.
This week the challenge is "Special Celebrations". Scrapbook a special occasion, something or someone. I knew right away I wanted to scrapbook the day we found out we are having our first grandson. For my daughters birthday she got to go have a "My First Peekaboo" ultrasound to find out if she was having a boy or girl. So the proud parents, aunt, grammy and sister all went down to watch. I brought along balloons and buttons for both a boy or girl. To tell the truth we really didn't think it would be a boy as I had two girls and so far we have had three granddaughters in less than 18 months. So boy there was a lot of celebrating, jumping, hugging and excitement when the screen turned on and we all knew right away it was a boy without a doubt.
So the first page is the pics of everyone waiting and the second is the ultrasound, dad calling his parents, and the happy family.
Closeup 'girl?" "boy?" title from Graphically Speaking
Boy and girl outfits from Baby Steps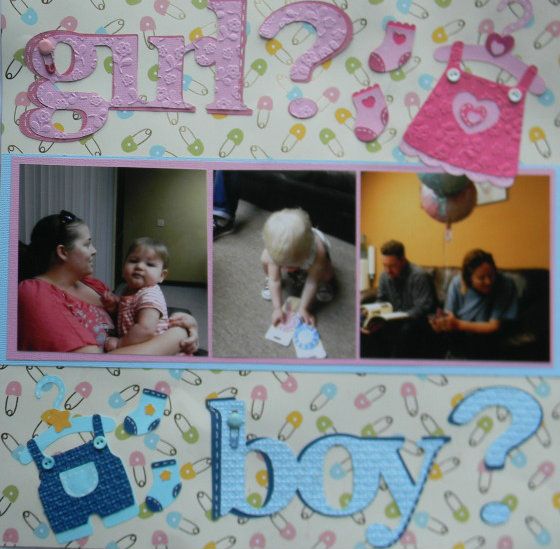 'OH Boy" from Mickey Font, tag from Fantabulous Finds, Little Baby from
Baby Step and I added a baseball cap from B is for Boy. My son in law is an avid baseball player, umpire and Dodger fan so I figure Michah better get used to a ball cap. LOL
I hope you enjoyed my layout. Little Micah will arrive in early October
so you will be seeing a lot of blue from me in the future.
I hope you will join us this week for the challenge and link up to
Lasting Memories
before Sat. night. We love to see your layouts and where your creative minds go each week with the them.
Happy Craftin?