Welcome to Cooking With Cricut's very special SURPRISE "Thank You" Blog Hop. Why is it so special? There are a couple of reasons! The first reason -- it is our 100th Cooking With Cricut challenge and the second (and most important) is to thank our wonderful leader and "Executive Chef" Melinda Beltran.
Melin started the Cooking With Cricut challenges in October 2010 to encourage crafters to find new and different ways to use their Cricut cartridges. And she has accomplished that and so much more! She has given scores of crafters a place on her Design Teams which quickly turned into a sisterhood of women, who care for each other; who encourage each other; who lift each other and their families up in prayer; and who have shared their hearts and their art through many outreach projects.
On a personal note I think Melin is uber talented and the most amazing supportive Christian woman.
I am blessed to be on her design team and work with her and the other ladies.
If you have arrived from my Design Team sisster Olivia at Orm Crafty Nights you are in the right place. If not or to start at the beginning please go to Cooking with Cricut to start the hop.
For my project I used the Imagine cart Word of Mouth and made a 6 x 6 twisted easel.
The flowers are from the Cricut cart Flower Shoppe.
I covered all the layers of the flower cuts with Glossy Accents. Then after it dries used a bamboo skewer to curve the petals. They stay really well that way and don't flatten out.
Closed card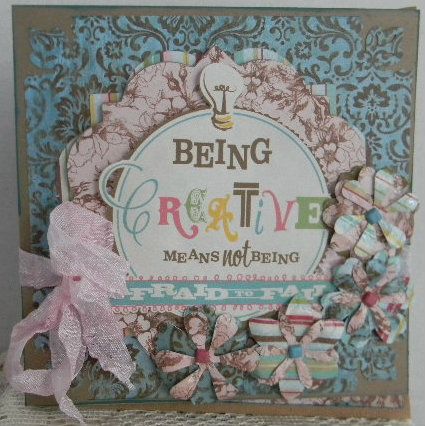 Card standing up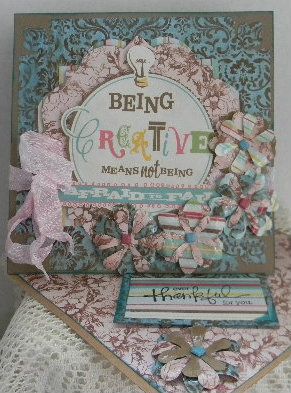 Blog Candy
Starting August 18th through August 31th I am going to draw one lucky winner by Random.org who leaves a comment and is a follower of my blog
for a $10 Gift Card to Michaels.
I will also draw one lucky new follower for a goody bag. I now have 601 followers which is amazing to me. So thank you all!
Thanks so much for hopping with us. We hope you'll join us and leave your own "thank you" in the comment section for Melin at CWC! Now it's time to head on over to my Design team sister Xochitl at Cricut Critter Scrappin Heaven
she's the next stop on this party train! Thanks for joining us and Happy Craftin!