Time to share my layout for the DCWV stack-a-holic template Challenge for August. Each month DCWV provides a layout sketch and a card sketch for you to design with.
Here is the layout sketch for this month and I fell in love with it right away.
This is my page using the new DCWV Boy stack. The pics are of the ultrasound to find out the gender of our new grandchild. After two generations of only girls and three granddaughters in a row we were thrilled to find out it was a boy.
One of the first things I did was buy the DCWV stack.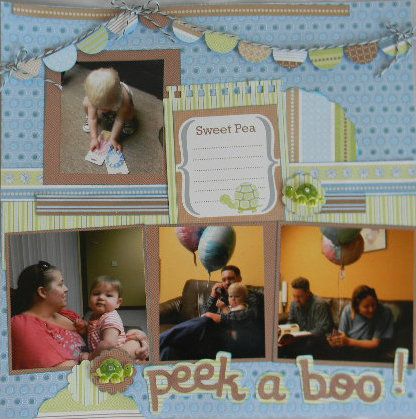 The peek a boo title is from B is for Boy cut aqt 3 inches.
The circle is from Lacey Labels cut at 3.5 inches
The banner was made using a 1" circle punch.
The little turtles from my stash matched the turtle on the journal tag
This is the second page of the actual ultrasound pics to go with the first layout.