Today is double post day for me.
The first post is for
FCCB
for the "National Tooth Fairy Day" challenge
and the second post is for
BBTB2
Vacation/Holiday Challenge
I hope you will check out both of my projects as well as those of my DT sisters.
Join in the fun and share your creations.
This week at
Bitten by the Bug 2
the talented Carole asked us to design a "Vacation or holiday" project.. I was really excited to create something using my brand new Imagine Good Ol Days cartridge. I love a lot of the vintage look images on this cart (although I think some are sort of goofy.)
This is one of my favorites so I created a card.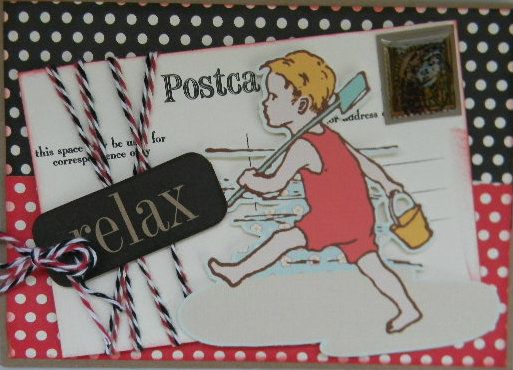 The polka dot background paper , the postcard, and the relax is from Canvas Corp
I added twine to match the polka dots and used a Kraft paper base.
I found a stamp in my stash to add to the postcard and inked the edges.
Blog Candy
Starting today August 18th through August 31th I am going to draw one lucky winner by Random.org who leaves a comment and is a follower of my blog for a $10 Gift Card to Michaels.
I will also draw one lucky new follower for a goody bag. I just realized I am only a few followers from reaching 600 followers.
I hope you will join us for the challenge at
BBTB2
"Vacation or Holiday". Remember you have two weeks to link up to this challenge and one more week to enter the "Elephantly Speaking" Challenge.
We would love to see your creations.