My first post for the day will be the
FCCB
Back to School Cricut Crawl
and the second will be the
BBTB2
challenge.
Remember you have one week to link your projects up for both of these challenges.
Reminder- Blog Candy
Starting August 18th through August 31th I am going to draw one lucky winner by Random.org who leaves a comment and is a follower of my blog for a $10 Gift Card to Michaels.
I will also draw one lucky new follower for a goody bag. I now have 603 followers which is amazing to me.
So thank you all!
Welcome to Cricut Craftin Grammy and the
EIGHTH
Fantabulous Cricut Crawl
...Fantabulous Cricut's version of a Blog Hop!
Summer is coming to an end and we are all getting ready for BACK TO SCHOOL...each Design Team member will be featuring an original BACK TO SCHOOL Project that includes a SCHOOL RELATED Item, such as crayons, rulers, pencils, book, school bus, etc. along with at least ONE Cricut Cut.
If you've come from visiting
Sonya:
http://sonyaspapertrail.blogspot.com/
, you're in the right place! If you've just happened across my blog and would like to play along with our Fantabulous Cricut Crawl, start
HERE
at
FCCB
.
Make sure to check out each DT member's blog for some awesome inspiration! There will be
PRIZES
along the way at our DT members' blogs, AND there will be a
Grand Prize up for grabs at FCCB
for one participant that submits a "Back to School" project at FCCB!
How fun is that?
For my project..
I made this cute little back pack from Campin Critters.
It was cut at 11 inches.
Inside are various school supplies such as the crayons from Simply Charmed cut at 3 inches, the pencil cut at 2 inches, the scissors, ruler, glue and lunch box also cut at 3 inches.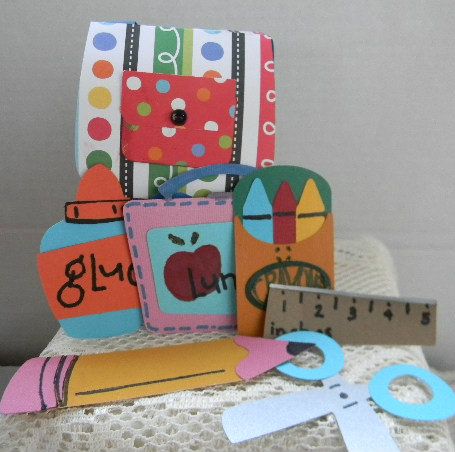 Now it's your turn! Let's see your
BACK TO SCHOOL
projects! Make sure to include a Cricut Cut somewhere on your project!
Next stop is Tammy
B .
http://bowmancrafts.blogspot.com/
. Go see what she has in store for you today... And when you're done, make sure to link up your project to
FCCB's
Fantabulous Cricut Crawl post to be entered into the contest!
Happy Crawling!