Hello everyone it is time for Madison's I Feel The Love project for
Cooking with Cricut
this week.
Here is a little about the August Recipient.
As written by Karen, the best friend of Olivia's mom-- Olivia is a 9-year-old with a sparkling heart, in need of extra love and encouragement. My lifelong friend is her mother, who lost her battle to cancer in 2011. Facing this new reality has been extremely hard for her. As valiantly as our beloved Erika fought cancer, with that same strength is Olivia doing all she can to end this disease. Soon after her passing, at only 8 years old Olivia founded Kids Involved in Cancer Research with a fierce drive to raise awareness and money for colon and lung cancer research. With her KICR walkathon for this year taking place this past weekend, a box of IFTL love will be such an encouragement. She is so brave, possessing the same inspiring strength I saw in Erika, and I would give anything to take away her pain. Madison's ministry gives us the privilege of delivering sunshine to Olivia's heart. Our happy cards will bring a smile to her beautiful face as she fights her own battle of dealing with the loss of her mom. It will mean so much to her to see that there are people thinking of her, who took the time to make a fun little card especially for her. Every card will be a blessing, engulfing her with healing love and light.
So here is my card for Olivia.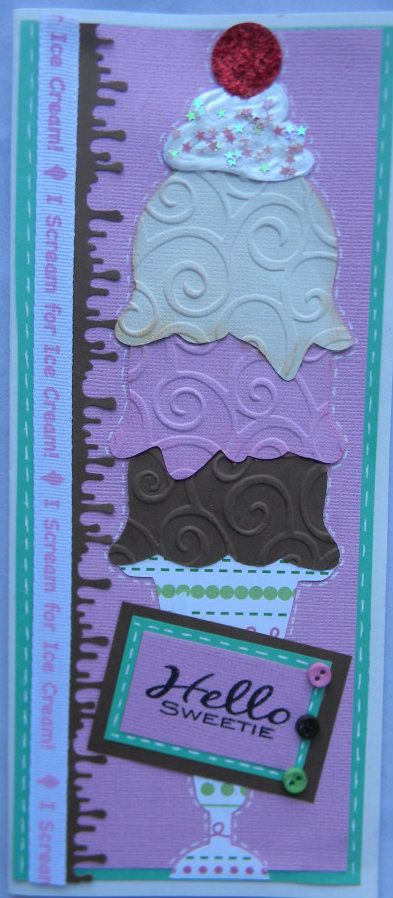 I used the Cricut Cart Sweet Treats page 32 to make the tall sundae cutting at 9 inches.
The stamps are from Yummy Puns by Joy's Stamps.
Ribbon from Joanns.
I also used my Drippy Goo MS punch and the Cuttlebug Divine Swirl embossing folder.
The whip cream is made with a pearl pen and sparklies
Then Red Stickles for the cherry on top.
Here is the inside with a little piece of leftover ribbon on the corner.
I hope you will join us this week for the challenge and create a card for Olivia. Not only will it make her feel special to get all these lovely cards but make you feel special to participate and share your creativeness with others. You have a week to link up your project at
CWC
. Happy Craftin!