Wow is all I can say about last week. I made it through my very first Blog Hop for my one year Blogaversary (thanks to all my Cricut Friends) and was so blessed. So many wonderful ladies participated with their wonderful creative projects including many of this great Lasting Memories team. Thanks so much ladies! Also a big thank you to all of you who stopped by and left your lovely comments which so encourages us all. We wouldn't keep going without you.
Last week you all rocked out the "Recipe Challenge". How fun to get new layout ideas as well as some great recipes. It is so fun to see what everyone creates. I can't wait to see the entries each and every week.
Now onto this weeks challenge at Lasting Memories. We're asking you to "Trash Those Layouts"!!! What the heck does that mean?? We want to see how you use your scraps or maybe even recycled items on your layouts. Should be interesting!! Can't wait to see what you create!! Come back tmw for our DT Inspiration post!!! Happy scrappin'!!!
I had so much fun with this layout. I have had this cute little picture of my oldest granddaughter for awhile. This is a picture of her having her first Chinese Noodles for Mommy's birthday dinner. Hard to see but she has a chopstick in her hand.
I had a piece of 8 x 8 cardboard from a packing box.
I tore off most of the top thin paper layer leaving some torn pieces on. The pieces I tore off I crumpled and then laid everything out and sprayed it with Glimmer Mist. I used Suede, Blue Bottom Jean, and Pomegranate. I cut 2 tiny strips off the piece once it dried. I used Tim Holtz paper for my background.
Then I laid everything out and moved it around till I liked it. I used twine for the bow. Some leftover chipboard letters I also sprayed for the yum title. Th
I had a
e Katie letters were from a Tim Holtz letter page. I have used alot of the letters so was surprised when I found the letters to spell her name. The strips on the bottom are ATG used tape that I misted and wrote on with a Sharpie.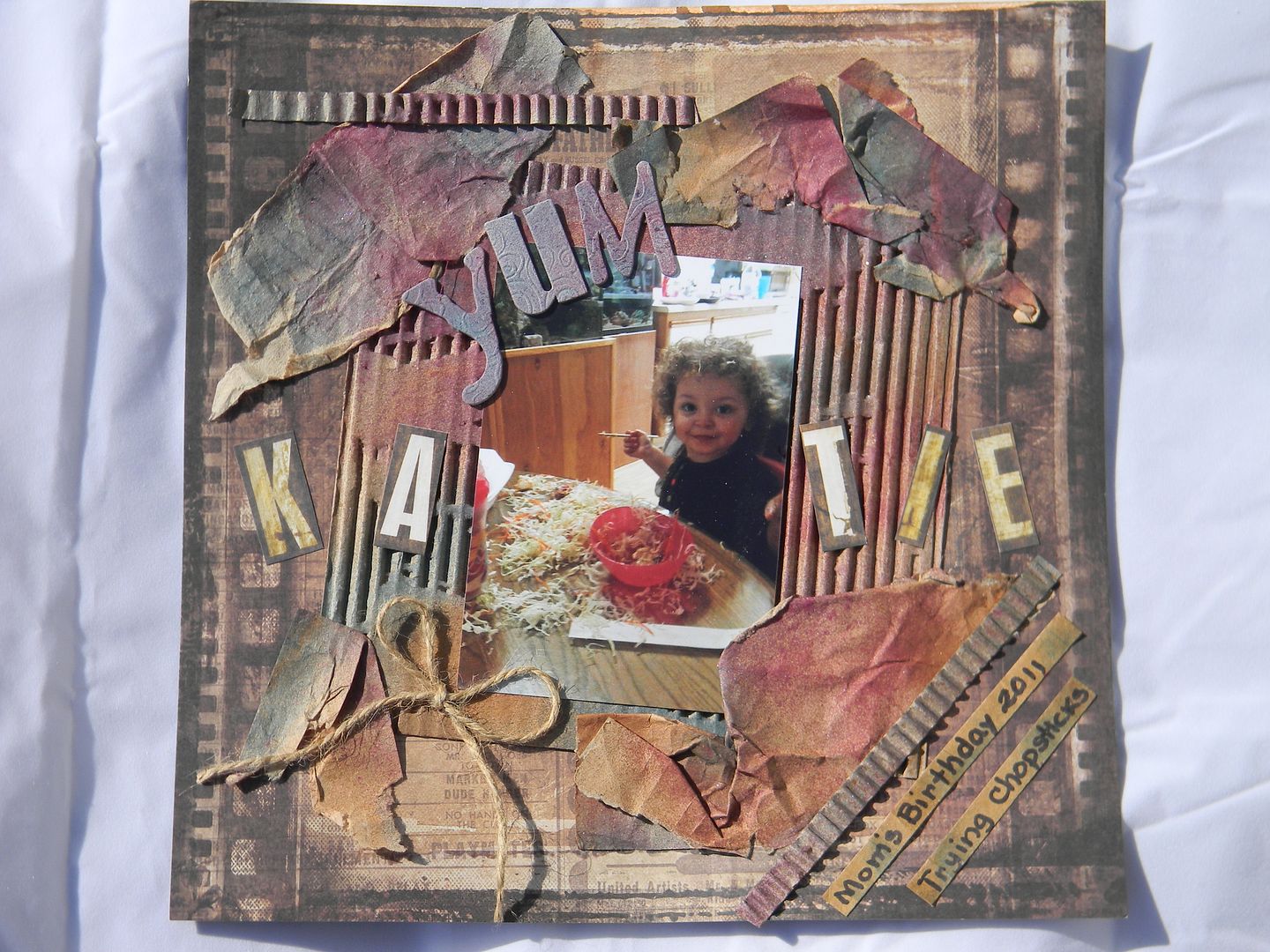 Hope you enjoyed my layouts!
We also have another awesome giveaway this week!!
Elizabeth
is hosting this weeks prize, check this out!!!
I don't know about you but I can never get enough Tim Holtz goodies.
Also, if you need a little more inspiration, try out our sketch from
PageMaps
!!
Just a reminder - in order to qualify for our challenge/giveaway, you MUSTfollow our challenge!! You're welcome to incorporate the sketch WITH the challenge or if you'd like to just use the sketch, please do and leave us a comment so we can come and see what you did with it!!!
Love this sketch because it makes me think of Spring and I love multi photo layouts.
So lets see those "Trash" layouts this week and join us at Lasting Memories for some fun.
Now if you missed the blog hop you still have through tomorrow the 30th to leave comments for the blog candy. Click here to the beginning of each day