Welcome to the very first Luck of the Irish 2 day Blog Hop
March 17th at 9:00 a.m. through March 18th at 11:30 p.m.
If you just lucked upon this blog, you can go back to the beginning HERE and hop along with us.
We're so excited to being doing this hop, and we have a fabulous line up with some very talented folks. There will be lots of fun projects, along with some great blog candy, and an AMAZING grand prize for this hop.
This hop runs from Mar. 17 - Mar 18, so you have plenty of time to make it all the way through the hop. Check out each blog and see what BLOG CANDY you could possibly WIN!! Come back
both days to see some new projects.
The Blog Candy for my blog is for the following Springtime embellishments. I would ask that you leave a comment and be a follower to participate in the random drawing which will be the morning of March 19th. There is also a grand prize drawing- which is posted below.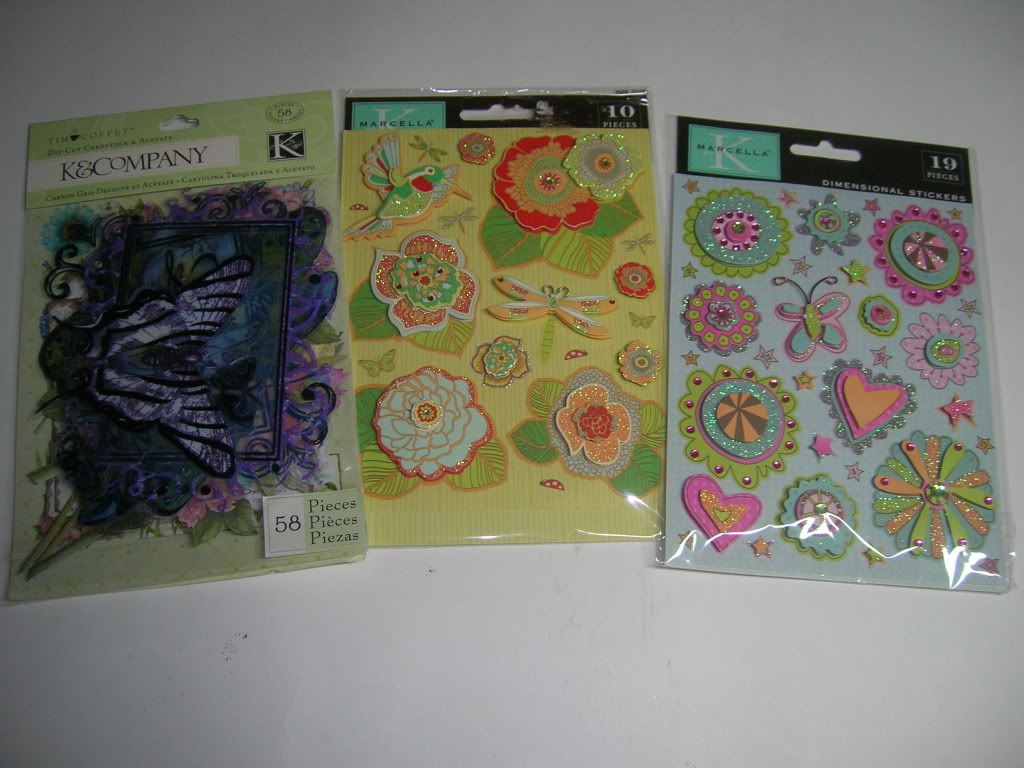 The project I made for today is a card

I made for some Cricut Message board friends.
The title came from page 67 MS Seasonal cart and was cut at 3 Inches.
The cricut head is from page 22 of Cricut Everyday and was cut at 3 inches. The cricut cart (page 52-2 Inches) and box (page 51- 2 ½ inches)were also cut from Cricut Everyday.
The hat is from PDDU at 1 inch page 21.
The pot is from Simply Charmed page 33 and was cut at 3 ½ inches.
I added ribbon from M's, Gold Stickles, pop dots and gems.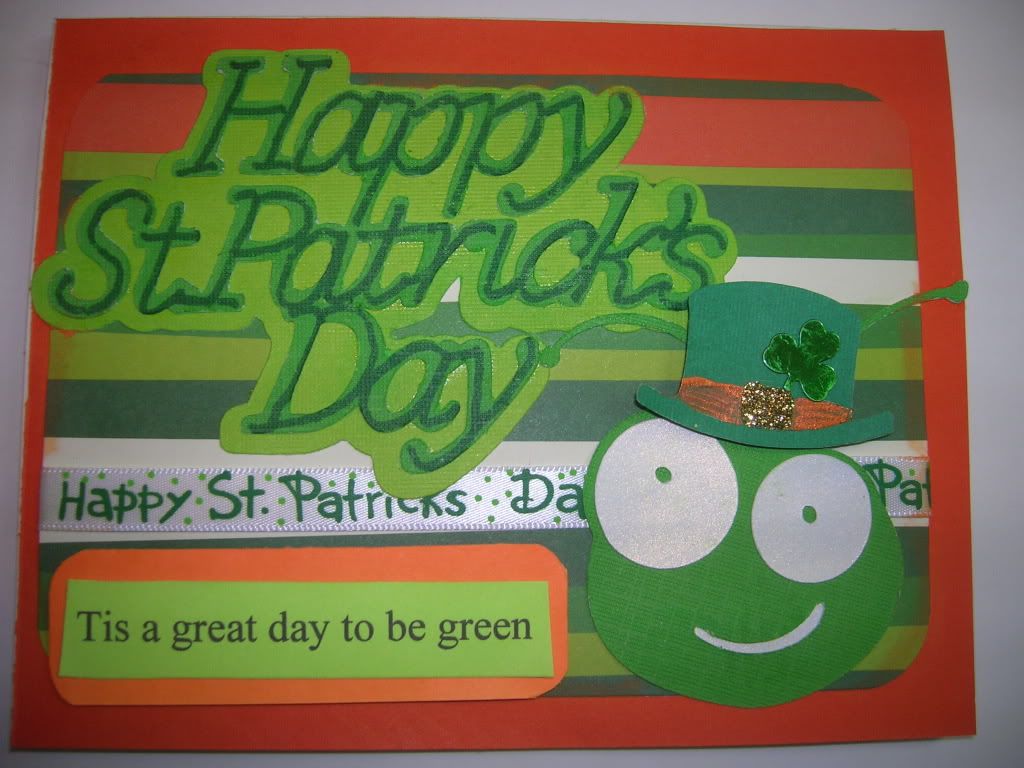 The poem is on the top inside and the pot and carts are on bottom of inside of the card
.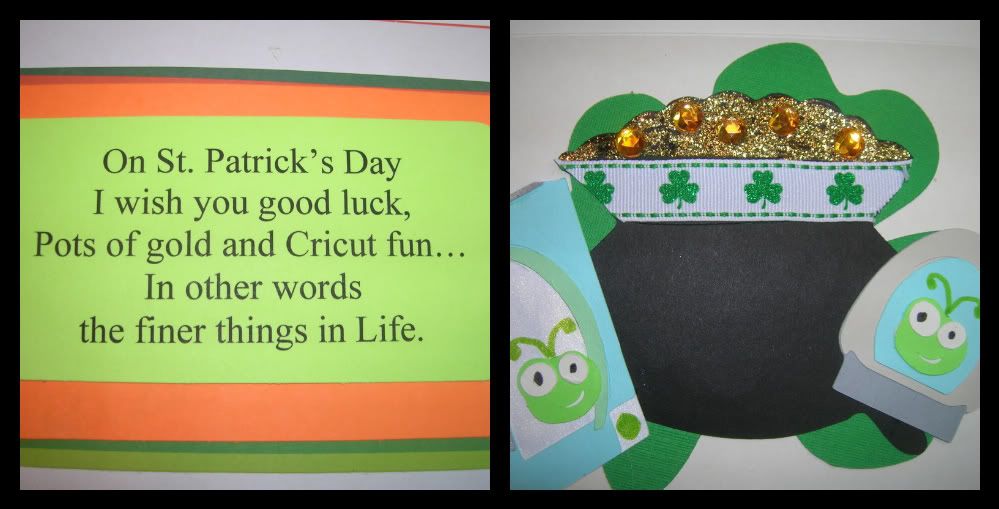 Please come back tomorrow Friday March 18th as I have a St. Patrick's Day layout to share with you.
Your next blog is with
Tristan -

http://tristans-time-4-craftin.blogspot.com/ Tristan is 8 years old and an amazing crafter.
Here is the complete lineup of all the wonderful crafters in the blog in case you lose your place and below that you will info on grand prize drawing.
Lisa -
http://handmadewithlove-lisa.blogspot.com/
Lisa -
http://honeybearzdesigns2011.blogspot.com/
Shawnee -
http://quiverofangels.blogspot.com/
Shelly -
http://kccroppers.blogspot.com/
Misty –
http://www.abusyplace.blogspot.com/
Creativek Kuts -
http://www.creativekuts.blogspot.com/
Deb -
http://www.scrappingmamma.net/
Corrine -
http://celebratingordinarymoments.blogspot.com/
Suzanne -
http://cricutcraftingrammy.blogspot.com/ You are here!
Tristan -
http://tristans-time-4-craftin.blogspot.com/ Next stop!
Mickie -
http://littlescrapcorner.blogspot.com/
Rachelle –
http://rachelle-rachellesplace.blogspot.com/
Sheri -
http://highland-eyes.blogspot.com/
Inga -
http://mommahobbit.blogspot.com/
Melanie -
http://melaniespapercraft.blogspot.com/
Christine -
http://crabbycakescrafts.blogspot.com/
Bobbi –
http://rockgirlcustomdesigns.blogspot.com/
Angie –
http://luvs2scrapbook75.blogspot.com/
Debbie -
http://craftydeb-ddscrafts.blogspot.com/
Lisa -
http://handmadewithlove-lisa.blogspot.com/
Scrapping With Lisa on facebook at
http://www.facebook.com/pages/Scrapping-with-Lisa/130882060268842
There is also going to be an overall grand prize, which is being sponsored by Lisa from Scrapping with Lisa and she will be the first and last blog on the hop. In order to be eligible for the grand prize you must leave a comment on every blog in the hop, as well as become a fan of my blog and of Scrapping with Lisa on Facebook. $20 worth of free svg files are being donated by The Treasure Box Designs. So you must be a follower of their blog at
http://treasureboxdesigns.blogspot.com/
, their facebook page at
http://www.facebook.com/pages/TreasureBoxDesigns/169444103106015
and visit their webpage at
http://www.treasureboxdesigns.com/
and tell them Lisa sent you. I also would like to know that you were there and what design you like best at TBD. You must do all this, it is mandatory in order to be eligible for the overall grand prize.
The grand prize for the Luck of the Irish 2 day Blog Hop is as follows:
Nine sets of 2 page layouts with pre-made pages, just add your pictures.
One Halloween mini album with background paper included.
One blank calendar tent with a set of calendar pieces stickers.
One premade Halloween chipboard album.
9 Disney stickers, one book of Disney 8.5 x 11 papers and a Minnie mini album.
One brand new Christmas Mini Album which you put together.
One perfect pages kit.
2 fall photo albums, blank.
One beautiful finished light denim blue album with 20 pre-made pages, all you have to do is put pictures in it and you have a completed album.
Last will be a gift certificate to a secret store.
The total for this grand prize is valued at approximately $212.00
Have a GREAT day!