I was very excited about this challenge when I saw it was coming up in last months Cricut Circle magazine because I wanted to use my new Cricut Everyday cartridge to decorate my craft space. I have always been an organization freak at work and school. Here are the directions for the contest and then my pictures. Remember you can click on the pictures to enlarge them.
SPRING CLEANING CONTEST

!
How do you store your Cuttlebug Folders, Cartridges, Paper and Ribbon… not to mention your favorite Cricut tools?? We want to see it… and so does everyone else that needs some inspiration!!
CONTEST RULES
: This is easy… just submit your one of a kind storage idea and it must involve at least 4 Cricut items… like Cricut Machines, cartridges, Cuttlebug, folders, booklets and/or tools
.
1. I used to keep my carts in fishing lure boxes and then one day I was looking at a hanging organizer I had jewelery in. I tried it out and it was perfect. So I cleaned out the jewelery and have since bought a second one at Tuesday Morning. This week I made 26 cart cuts with the alphabet on to organize them from Cricut Everyday. These hang on my cabinet that I keep a lot of mIsc. stuff in and my tv to keep me company when crafting. The clear pockets make them easy to find and as I add carts there is lots of room and the letters can be moved as needed. Each pocket can eventually hold 2 carts. (There are about 135 carts right now using the fronts and backs spread out.)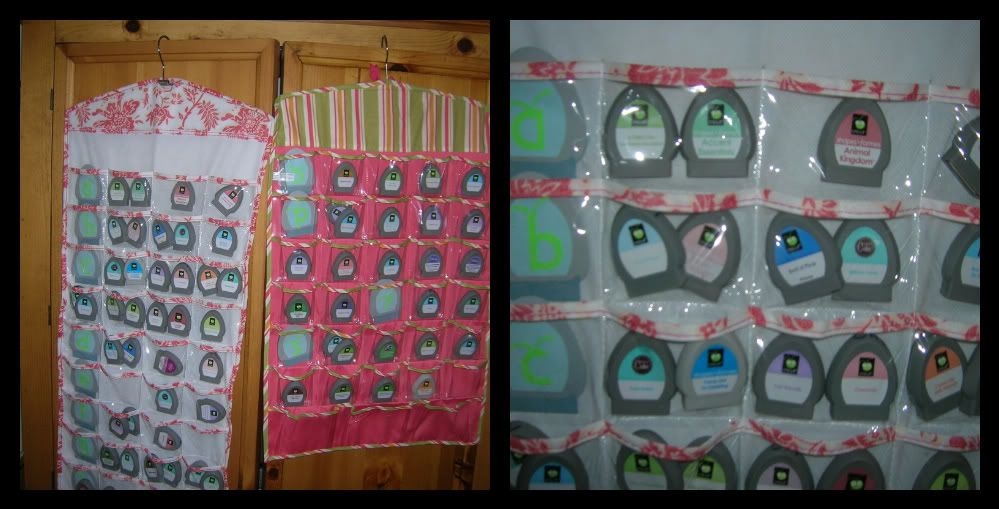 2. This is the stack of drawers that I keep all my overlays and handbooks in. The drawers came from Staples. Each pocket is labeled and holds the overlays and handbooks. I used the Cricut Everyday and Lacey Labels to add colorful labels. On the top of this I keep my Gypsy and all my cords in this pink
metal container.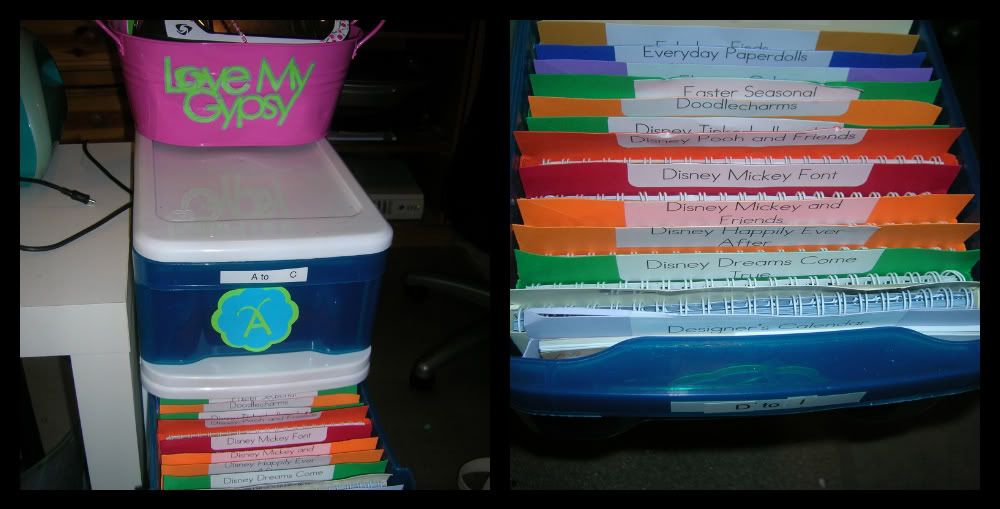 3. This is the section I keep my Cuttlebug machine, my 3 boxes of folders, my Your Story and a bunch of my embellishments and assorted misc. items. Again I used Cricut Everyday to cut out the Your Story title, and make the Cuttlebug pics which I added 1, 2, and 3 too.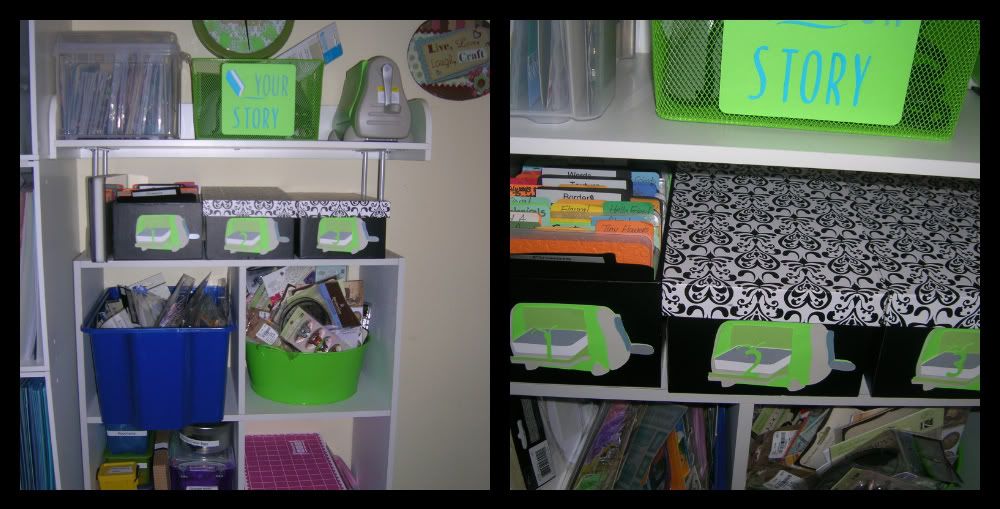 The green wire baskets and the green and pink tubs came from Target. The black and white photo boxes are from Michael's. You can see my Cricut clock which I posted a couple weeks ago. I also got this at Target and the plastic front was easy to remove to decorate with Cricut Everyday.
http://cricutcraftingrammy.blogspot.com/2011/03/bitten-by-bug-2-challenge-st-patricks.html
I also have a Cricut green small wire trash can that I put scraps in when crafting until I file them by color. Keeps my desk a little cleaner while working. If you have any questions please ask. Thanks for looking!