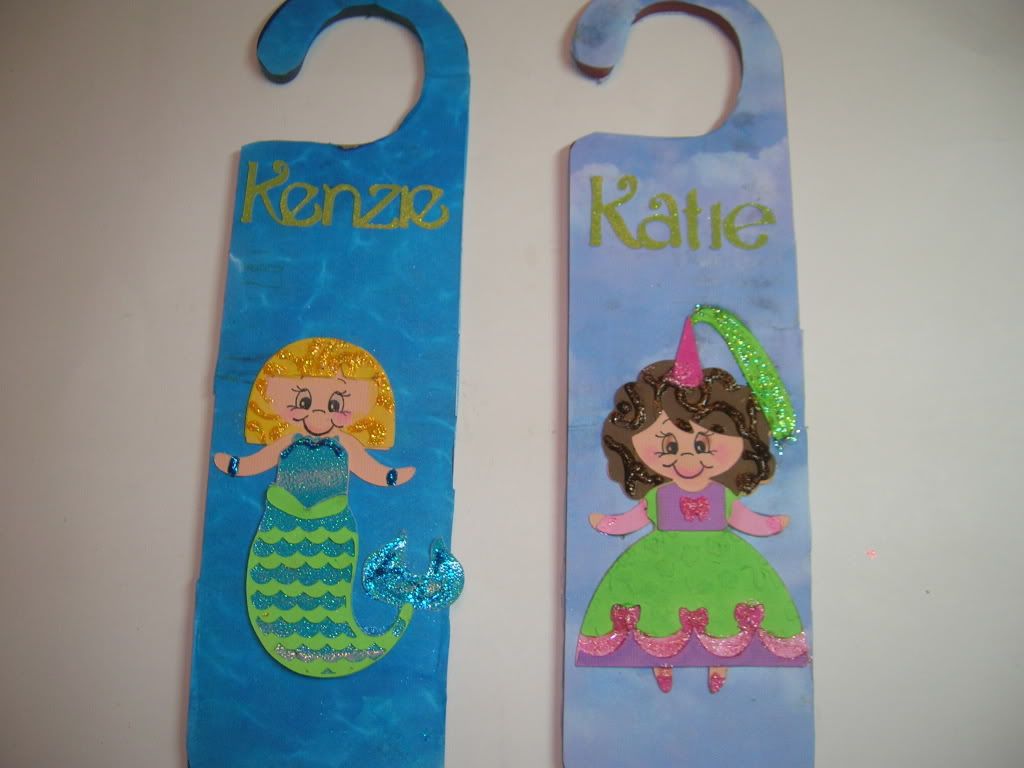 FEBRUARY MONTHLY CHALLENGE: CHILDREN AT PLAY

!
"Childhood is the most beautiful of all life's seasons." This month we want you to create in honor of the children in your lives. Not only will you be creating something FOR a child, but you will be playing to win a prize for your local school. The winner will be playing to win aLightly-Loved Cricut Expression and FOUR Cricut cartridges (Provo Craft's Choice) for your local school
The Challenge
: Create a project (other than a layout or card) for a child using your Cricut machine. Project ideas include, but aren't limited to: Gift item, toy, organizing solution, chore chart, item for schoo., stationery set, etc. Project must include atleast 2 different Cricut Image Cuts.
I made these door hangers today for my sweet granddaughters. They are wood and belonged to my daughter when she was in college. I traced then and glued paper to wood. I then Glimmer Misted the water paper on the left and the cloud paper on the right to give them more vivid color. The two dolls were cut at 4 inches from Once Upon a Princess. I have a couple more so will save these for grandbaby due in July and any future grand kids.
If my name was to be drawn for this challenge I would love to give and Expression to the school my daughter teaches at. It is a school for children with Autism and I am sure they would love to have a Cricut machine.