The weekly challenge for the Cricut Circle is the Decorative Letter Challenge Create a scrapbook page, card, home decor item, or other project where you include a word of your choice. One or more of the letters in your chosen word must be replaced by a Cricut shape.
I also combined this with Amanda Crafts and More challenge which was to use a sketch and share the sketch with your layout. I immediately went on the hunt for a multi picture double page layout sketch and I found a great one at Page Maps to use.
This is my adorable oldest granddaughter Katie in our backyard blowing on dandelions for the first time. She had so much fun and made sure she found every dandelion in the backyard before she quit. I chose to use the grays and reds of her clothes and found in my stash this wonderful Cosmo Cricket paper called Something Blue which came in a kit.
The large scallop circle was cut from Elegant Edges page 47 at 11 inches.
The small red circle under the doily was from page 23 cut at 4.5 inches.
The title was cut from Nursery Rhymes at 2 inches
Dandelions and Dandelion border from Storybook page 43 cut at 2.5 inches
The I in wish was replaced with a dandelion cut.
I added sticker letters so the full title is " Make a Wish Upon a Dandelion"
The Once Upon a time tage and the little words all came from the kit.
They say bliss, happiness, joy and elation.These were pop dotted and inked on the edges.
I also used some crochet border and added Diamond Stickles to the ends of the dandelions.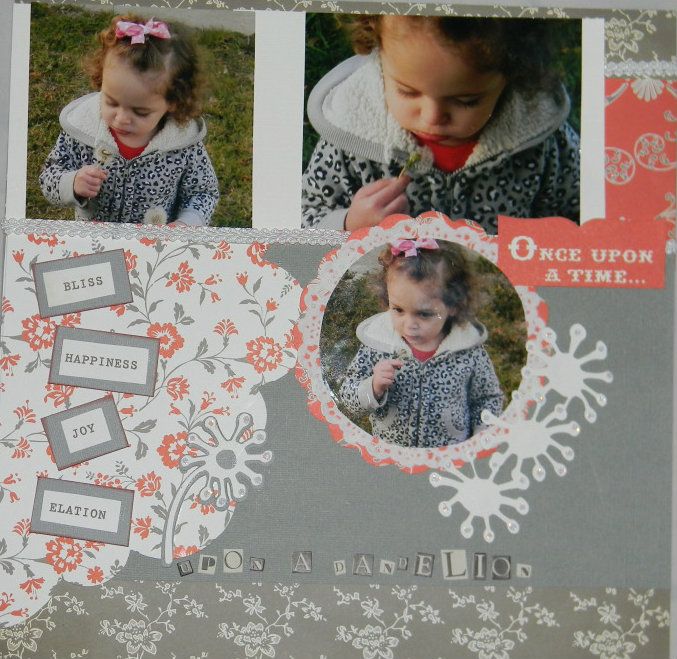 I am really happy with the way this came out and love the colors.
Thanks for looking and Happy Craftin.