If you are looking for the Lasting Memories Guest Designer Post Click HERE!
Other wise you are in the right place for the
Welcome to the "Trick or Treat" Halloween Blog Hop!!
We're so happy you could join us for this super-fun hop showcasing cards, layouts and projects that feature everything fun about Halloween!! You'll find an array of ideas throughout the hop -- From decorations to gift ideas and more, we hope you'll enjoy each and every project along the way!! This is a TWO-DAY hop, so be sure to catch both days for maximum ideas (you'll find the entire line-up below my post)!!
We can guarantee LOTS of treats on this hop (and maybe a few TRICKS too)... So let's get hopping!! If you've hopped over from
Carol - http://huffandpuffscrap.blogspot.com
then you are in the right place!! If you've just popped in to visit my blog or are reading this via email and you'd like to join our Trick-or-Treat FUN, then please
CLICK HERE
to start at the beginning with
Lynda's blog
because... It's always a TREAT to start at the start!! :) We have a WONDERFUL Grand Prize for one lucky hopper today -- A Gift Certificate for
Sweet Stamping Treats
!! To be eligible, please visit each "Blog Hop Stop" and leave a comment!! One random winner will be chosen on Friday, October 21st (giving you plenty of time to finish the hop)... For more details on what you could choose if YOU are the winner, please be sure to visit our sponsor:
For my blog candy I will choose a random winner on the 17th of October after this Blog Hop is over. The drawing will include anyone who is a follower and has left a comments on October 7, 8, 15 and 16th which is my blog hop days this month. If you missed my first blog hop you are welcome to go back and comment on the above dates. The winner will get their choice of either a Michael's or Joann's gift card for $10.
Thank you so much for all your comments yesterday. Was so much fun seeing all the wonderful ideas for Halloween. For my project for Day 2 I used a tutorial for
Test Tube holders
I got from Splitcoast Stampers.
These are fun to make and you can make 3 from one piece of 12 x 12 paper. Double sided paper is the best but if you don't have it you can cut a piece to cover the white part that shows. These test tubes are from Martha Stewart and come 8 to a pack. I got them on sale at Joanns. You can also get test tubes at educational stores.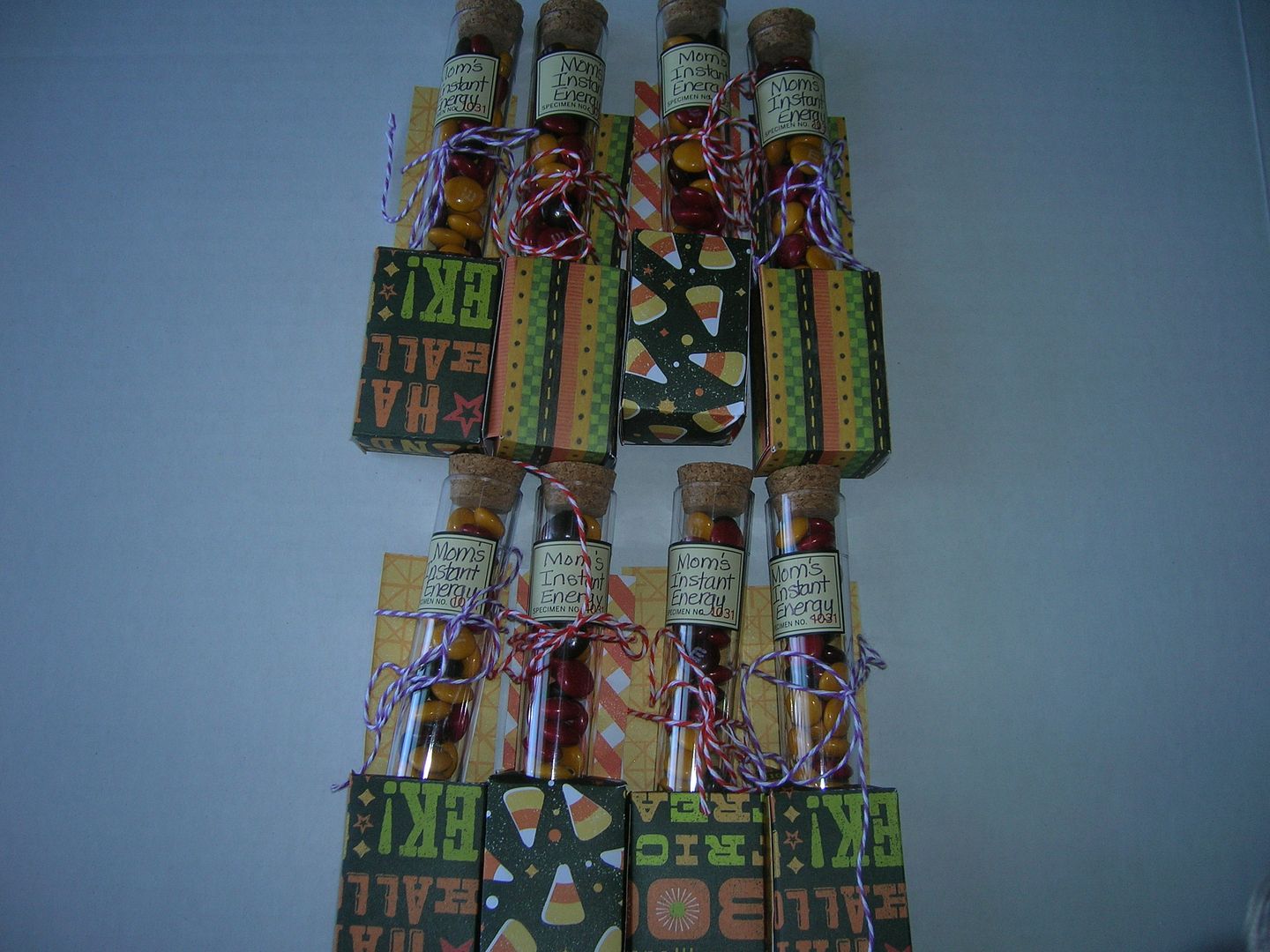 The labels were in the Martha Stewart Package so I hand wrote on them. If you buy them you can make labels on the computer. Because I made these for my MOPS (Mothers of Preschoolers ) Group, that I mentor; I wanted it to be something fitting so I wrote Mom's Instant Energy on the tag. I tied them with twine to the box and filled them with Fall M and M's.
I am also entering this in the Cricut Circle Weekly challenge- Feeling Gifty Challenge
Thank you again for checking out my project... Now hop on over to
Lisa- http://-lisa.blogspot.com
and remember to visit all the stops for more chances to WIN!!
Below are links to BOTH days of the hop so you'll be sure not to miss a THING!!
DAY ONE (October 15):
DAY TWO (October 16):