Welcome to the "Trick or Treat" Halloween Blog Hop!!
We're so happy you could join us for this super-fun hop showcasing cards, layouts and projects that feature everything fun about Halloween!! You'll find an array of ideas throughout the hop -- From decorations to gift ideas and more, we hope you'll enjoy each and every project along the way!! This is a TWO-DAY hop, so be sure to catch both days for maximum ideas (you'll find the entire line-up below my post)!!
We can guarantee LOTS of treats on this hop (and maybe a few TRICKS too)... So let's get hopping!! If you've hopped over from
Kacee- http://www.youhadmeatscrap.blogspot.com
, then you are in the right place!! If you've just popped in to visit my blog or are reading this via email and you'd like to join our Trick-or-Treat FUN, then please
CLICK HERE
to start at the beginning with
Lynda's blog
because... It's always a TREAT to start at the start!! :) We have a WONDERFUL Grand Prize for one lucky hopper today -- A Gift Certificate for
Sweet Stamping Treats
!! To be eligible, please visit each "Blog Hop Stop" and leave a comment!! One random winner will be chosen on Friday, October 21st (giving you plenty of time to finish the hop)... For more details on what you could choose if YOU are the winner, please be sure to visit our sponsor:
For my blog candy I will choose a random winner on the 17th of October after this Blog Hop is over. The drawing will include anyone who is a follower and has left a comments on October 7, 8, 15 and 16th which is my blog hop days this month. If you missed my first blog hop you are welcome to go back and comment on the above dates. The winner will get their choice of either a Michael's or Joann's gift card for $10.
For the hop today I am sharing a Halloween fold out book using Tattered Angels Glimmer Mist, Halloween Chip Tiles, Glimmer Screens and Stamps. I have been taking Glimmer Mist classes at my local Scrapbook store and love using it. For this project I used Pumpkin Spice , Raven and Fully Purple Glimmer Mist. I also used Paprika.Meadow Green and Raven Glam.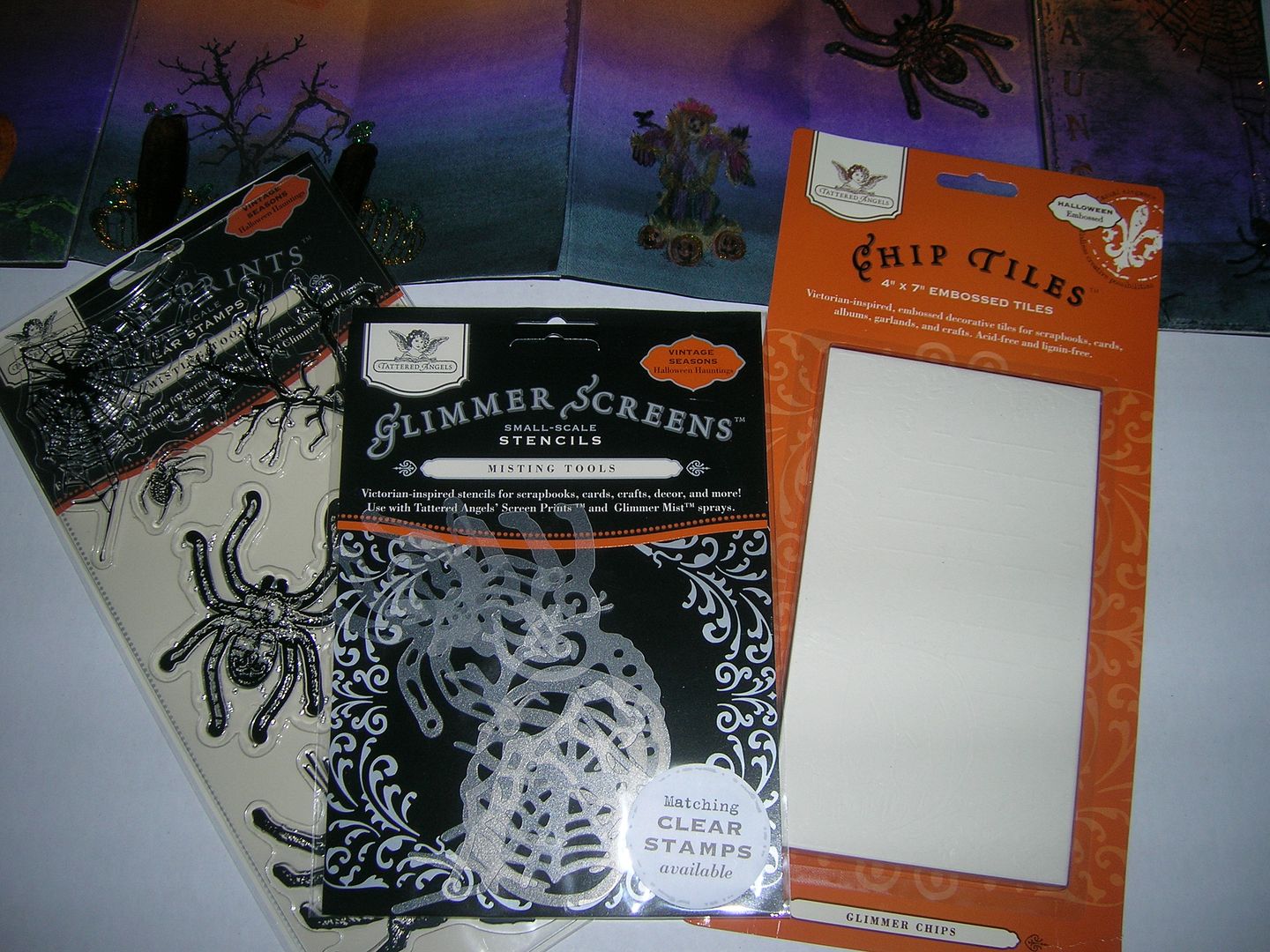 This is the front of the completed book. The book has a 4 x 7 cover and back page from the chip tiles. The chip tiles are painted first using glaze which resist the Glimmer Mist. The spider was painted with Raven glam and the pumpkin with Paprika glam and let to dry. Next the covers and pages are sprayed with three colors of Glimmer Mist. I let the color set for a minute then wipe with a paper towel. Fold the paper towel so you don't mix the colors and then let the page dry. After all the pages are dry they were glued together to form an accordian fold book. There are front and back pages so you need to glue these together.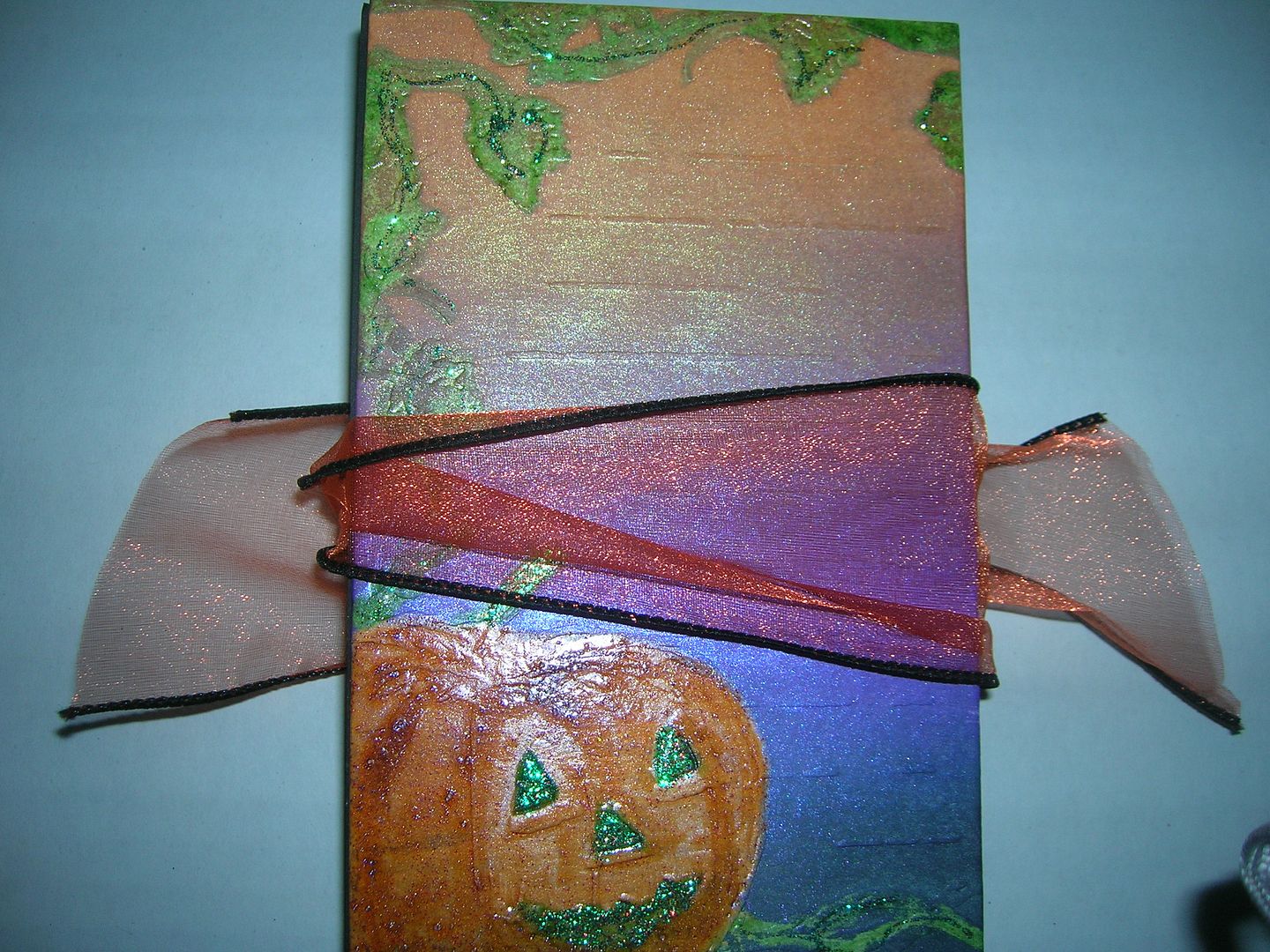 It is then time to decorate your pages. You can use the stencils and spray mist over them. You can use stamps. I used the Glimmer Mist stamp set as well as a bunch of stamps I had at home. I added Stickles, Smooch Ink, gems, and colored pencils.
This is side 1.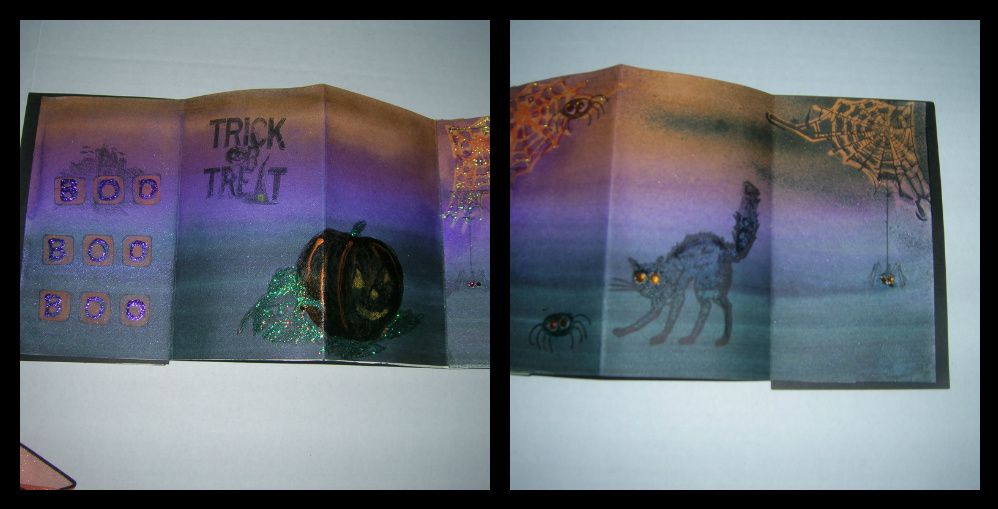 This is side 2.
So with this technique you could make cool scrapbook pages, cards, and mini books. You can use stamps, stencils, die cuts, and embellishments. The colors come out so vivid for the background. There are a lot of videos on the internet on Glimmer Mist techniques or maybe you can find a class at your local scrapbook store. Hope you enjoyed my post
Thank you again for checking out my project... Now hop on over to
Elsa -- http://www.justafewdesigns.blogspot.com
and remember to visit all the stops for more chances to WIN!!
DAY ONE (October 15):