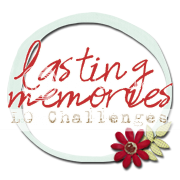 I have some exciting news I would like to share with you. I have been asked by Karen at
Lasting Memories
to be a Guest Designer from now through this term in December. I am very excited as this is a challenge blog that I have been participating in and absolutely love. Each Sunday a new challenge is posted for layouts only.
This really encourages me to keep working on my grand daughters pictures. Each week they feature several layouts as well as selecting Top 3 layouts each week. If you notice on my side bar I have been featured and won Top 3 several times. I have gotten a lot of great inspiration from the Design Team and am looking forward to being a guest designer. I hope my followers will check it out and stop by to see what is going on. Would love to see you enter your layouts in the challenges.
Tomorrow and Sunday please stop by to see my Halloween projects for the Trick or Treat Halloween Hop. Would love to see you all stop by.