Woo hoo! I have been asked to return for another Design Team term at Fantabulous Cricut. I love working with these talented ladies and doing the Thursday Tutorials. So glad I get to stay on the team for another term.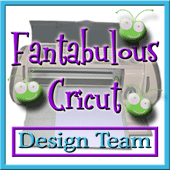 Here is the announcement . So sorry to see these talented ladies leave but also wish to send congratulations to the new and returning DT members.
Here is the announcement and the names.
Fantabulous Cricut has come to the end of another great design team term and it is with sadness that we say farewell to a few of our design team members:
Amy A, Barb, Dana, Jamie T, Jenae, Lisa C, Maquel, Saundra, and Tanya
Thank you so much for the time you've shared with us here at FCCB
We welcome our returning design team members:
Amy Jo, Carissa, Glenda, Jennie, Jessica, Jewels, Kate, Larelyn, Marlene, Sabrina, Sarah, and Suzanne.
We are so pleased to introduce to you our newest design team members here at FCCB:
Becky –Just B Creative Crazy
Cathie –Creative Cutter Room
Charlotte –A Little Bit of Detail
Crystal –Little Creations
Faith –Faith Abigail Designs
Jamie A –Scrap Queen
Lisa F –A Mermaids Crafts
Melanie –Melanie Makes
Melissa –Create with the CricutKateer
Peggy –Daily Grace Creations
Sherrie –Sherrie Scraps with Passion
Click on our Design Team link at the top to see photos of these talented gals and Please give them a warm welcome.
Weekly Challenge
This week, you can say that our challenge is "For the birds" and we won't take offense! It really is all about birds and we want to see your projects showcasing our feathered friends.