No crafting today as I was busy busy reorganizing my room. My son in law and daughter came over after work last night and put some more rods up and made my new rolling cart for me. So I decided to straighten up and reorganize my room again. So there are a lot of pictures. We will start at the doorway and move around the room. The first shelf holds all my magazines, books, Zutter, Sew Easy, etc. Above that is two ribbon racks which holds ribbon, and flowers. The red and green containers also hold more ribbon. To the right is the closet which has more shelves and craft stuff but no pics of that today. I have to have a porta crib in there for my granddaughter. I have to place it exactly right or she can grab things from the shelves.
Next is my 4 x 4 Jet max paper storage. On top of that is another Jetmax organizer that holds my 8 1/2 x 11 paper. In the drawers are Imagine ink, extra glue, blades, and mini books I have made are on display. The shelf to the right is my embellishment tubs and boxes, brads, Embossing folders, and on the top my Xyron, Cuttlebug and Sizzix Embossing machines.
Next is my homage to Martha Stewart on Bygel Rods from Ikea. I just added 6 long ones on left. The white board that I design my scrapbook layouts on using small magnets is covering 4 empty short rods that are empty right now. Might be just enough room for my Fall Holidays and Christmas punches which are in boxes right now. I have two small white boards for notes about Design Team, Challenges, etc.
This is my desk and my new rolling cart from Ikea which has 6 pullout shelves. It is perfect for my shelf that SIL made for E2 and Imagine. It pulls out and moves easily. Above my desk are jars of buttons, Stickles, Alcohol ink and tools. With the cart I have so much more work space and even got out the little mini sewing machine that I got months ago and never had room to use.
Here is a closeup of my shelf and rolling cart.
In the drawers I have pattern scrap paper in one, plain scraps in another, carts in boxes (ala Okieladybug), mats and project I am working on in top, and two empties for now.
Here is a close up of my desk. There is a clear mat on large desk to protect it and a calendar on side desk to write on. Below the shelf with buttons you can just see my magnet containers from $1 section of Target with various colors of twine in them.
Underneath is binders of stamps, drawers of Glimmer Mist, stamp pads, paints, chalks, Gypsy stuff, markers, larger paper cutters, Prismacolor pencils, sticky notes, directions and craft DVD's.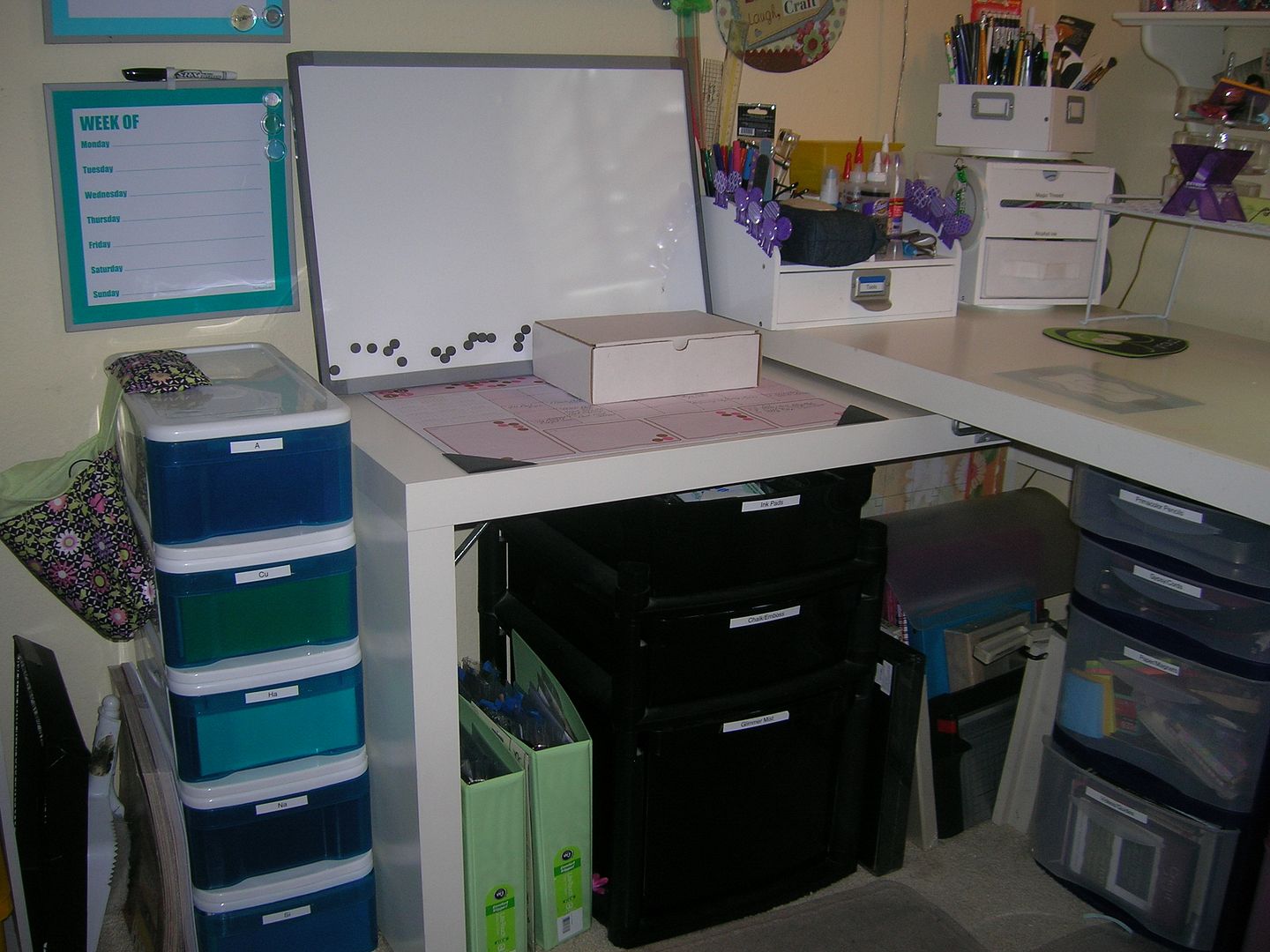 Far right under desk is boxes I store completed cards in, basket for small cutter and ATG guns.
Right of desk is another Ikea shelf with smaller pads of paper and Tim Holtz chipboard. Next is the cabinet TV is in and other craft supplies.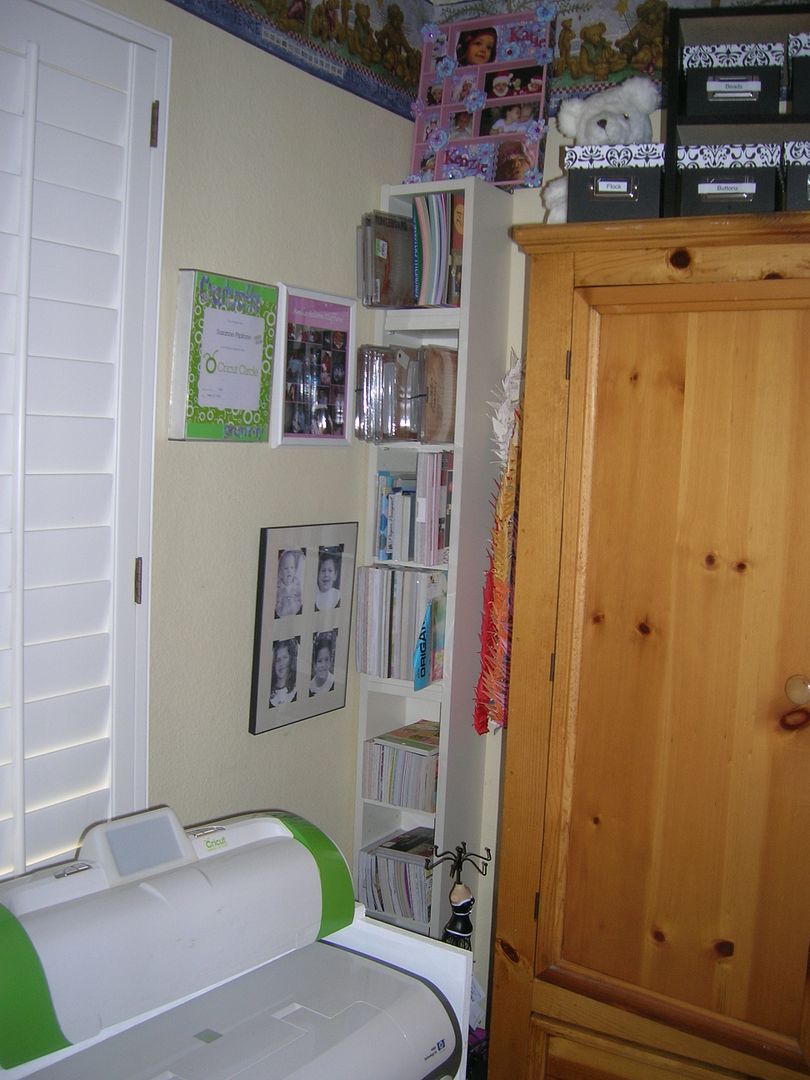 Next to that is the large computer cabinet and then my rolling stamp cart which is all wooden stamps. Someday I plan to take them off the wood blocks but for now they are fine. We are back to the door and that completes the tour of my craft room.