Hi Everyone and welcome to my post for the
Sweet Sassy Diva
Design Team today. I am also entering this in the
BBTB2 Challenge
which is to make a project with Locker Talk. This week the challenge for the SSD Design team is to make a Back to School Project. Back to School has always been a big deal to me first because I loved school as a kid and both my parents were teachers. Then for 33 years I taught school so this time of year I would be scrounging for supplies for my classroom. Well now it means I have been retired for one full year which is hard for me to believe. I still troll the Back to School aisles and ads looking for great deals on crayons and folders. Guess those habits are hard to break.
So on to my project. I decided to make a First Day of School Mini book. I used an accordian book from Bazil ( www.bazill basics.com ) that I got at my local scrapbook store on sale. Here is a picture of the school stack I had. I have seen new school stacks at Michaels recently.
The folder opens up and each page is 4 x 6. I made 2 x 4 pockets for the tags. Each tag was cut with design paper to place in a pocket. The wallet size pictures would fit on the front of the tag and the back size is blank so that info about teacher, school, etc. could be added on each one.
The recipe for the cuts are at the bottom of the post.
Here is the folder decorated and closed.
Folder open and decorated.
First day of school page and K through 2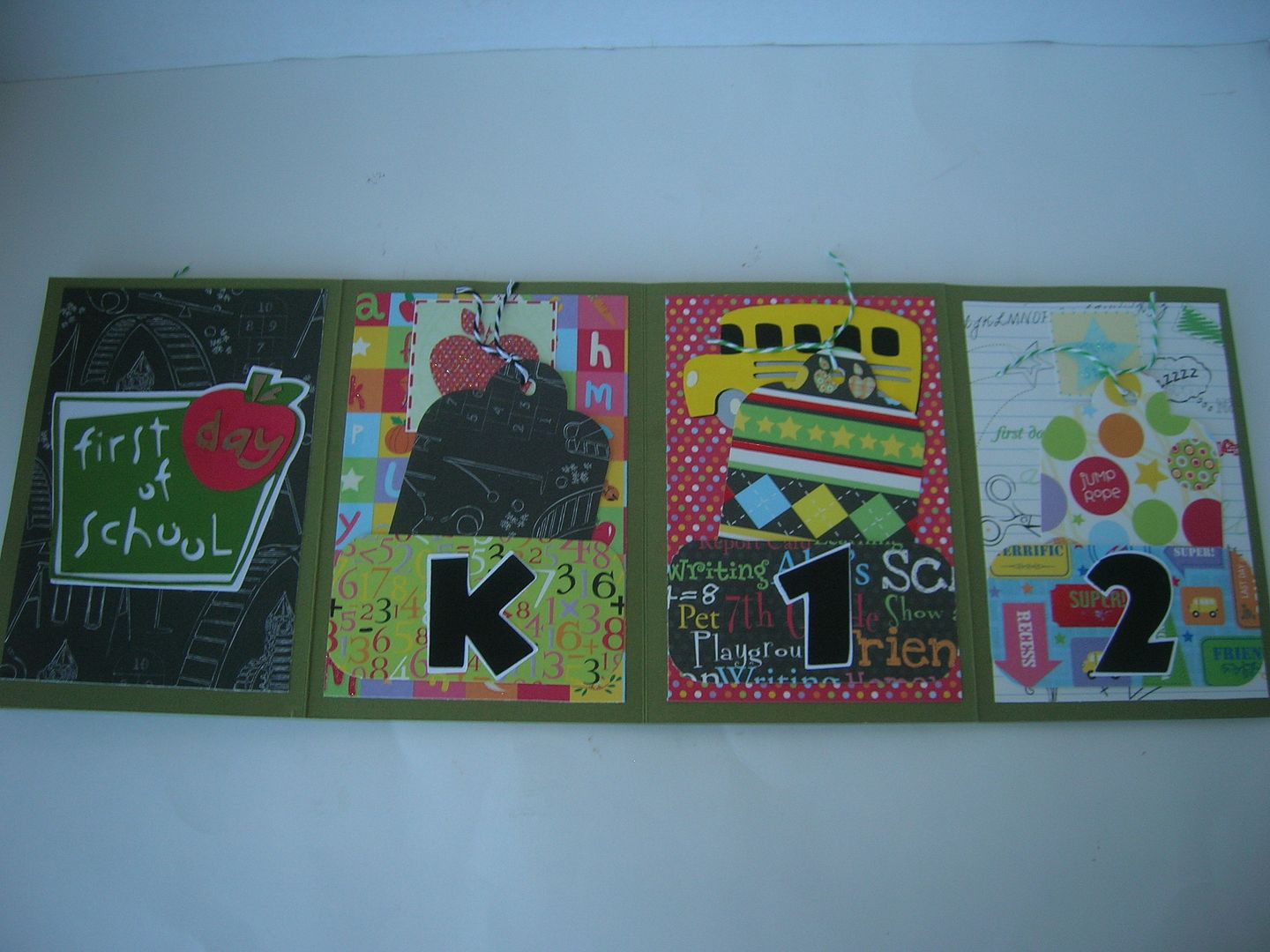 3rd through 6
Back side 7-10
11-12th grade and graduation
Back to school page
Recipe for cuts
Recess cart- Bach to School 1 1/2 ", school house 3 3/4", scissors 2 ", crayons 2 ", ABC 2 ", book and apples 2 1/2 ", back pack 2 1/2 ", grad cap 1 1/2 " world 2 1/2 ", glue 2 1/2 ", bus 2 "
Locker Talk slide 2 1/2 ", lunch pail 2 1/2 ", first day 3 1/4"
Tags, Bags and More tags 4 1/2 "
Thanks again for joining us at Sweet Sassy Diva.
Also a big thank you to Bobbi Jo for these great challenges.
Please come back each day this week to
Sweet Sassy Diva
to see all the other awesome projects the Design Team is doing for Back to School. I would love to have you come by my blog too.