Hello everyone! With the end of another school year coming it's time for a Graduation/End of School Year challenge here at
Cooking with Cricut.
I taught for 33 years and can't believe I have now been retired for two years. This time of year was always tiring as you completed your school year and since we were year round we were already planning the next year. I would be so attached to my students that it was hard to end the year yet thrilled to see how far they had come in one year.
For my card today I made a card I saw in the Cricut magazine last year and book marked.
The only problem was I didn't have a sewing machine that was in working order until I got one for my birthday a few months ago. I really liked the layering of the apple and sewing through the layers.
Everything was inked with Tim Holtz Vintage Distressed Ink.
I used Kraft paper for the base, red cardstock and Graphic 45 School Days paper.
The stamp was from the $1 section at Michaels and the ribbon was from a package that I recycled.
Buttons and twine from my stash.
I used the apple from Doodlecharms 2 1/2 inches and welded it to center of rectangle.
I embossed with Stampin Up textured folder and pop dotted it all around. Tied ribbon and added tag.
I cut out 5- 1 1/2 inch apples out of a book I got at the 99 cent store. I hunt for books with heavy paper so they cute more easily. Inked the apples and sewed onto apple I cut out of graphic 45. Then glued into cutout. Buttons are threaded with twine and glued down.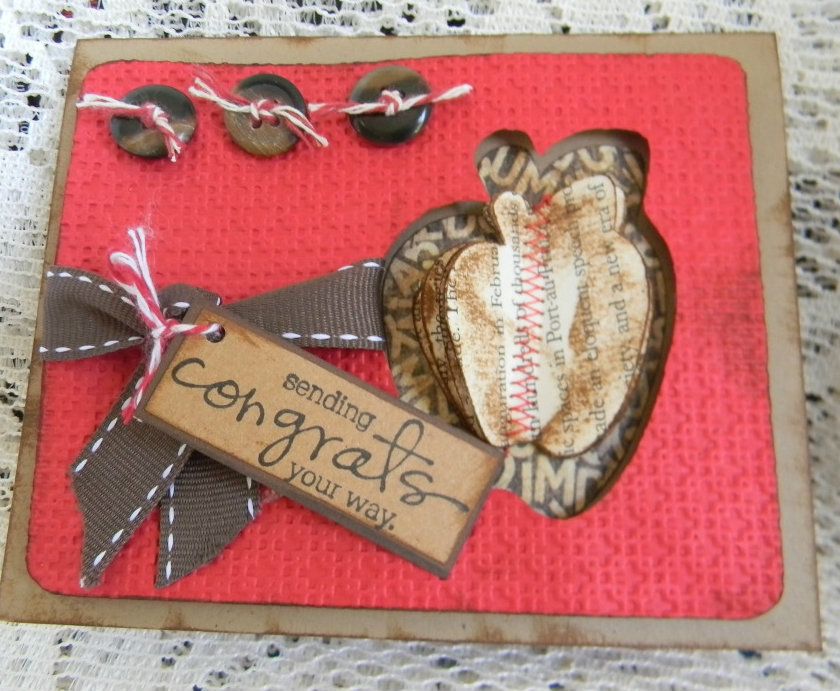 Inside of card I used more Graphic 45 scraps and the apple cut out from front and the last little piece of ribbon. Stamped apple with a stamp in my stash.
I hope you enjoyed my card. I am really enjoying using my sewing machine on my cards and layouts.
I hope you will join us this week for the Graduation/End of School Challenge. We would love to see your projects and have you link up to
CWC
. Remember you have one week to complete your project.
Happy craftin!