Hello everyone it is time for another awesome challenge at Cooking with Cricut. This week the challenge is texture. W

hether it's embossing, or mixed media....we want to see TEXTURE on your projects. Something other than flat paper or cardstock...Think of anything that would give your project way more depth than just plain paper :)
For my project I decided to make another card for the I Feel the Love Challenge and to use my new Teddy Bear Parade cart. I love teddy bears and am so excited that Provo Craft finally came out with a teddy bear cart.
So for the texture I used a Halloween word embossing folder for the background and Tim Holtz distress paper. After embossing I sanded it with an emery board. I also embossed my teddy bear's fur and the pumpkin and hat. The little pumpkin treat bag, the nose, hat, and trick or treat sentiment are pop dotted. I also used googly eyes and Glossy Accents to the eyes and nose.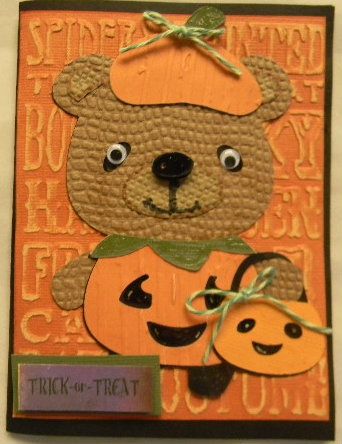 I hope you will join us for the challenge this week and show us how you add texture to your projects. Remember to link up to
CWC