Today is double Design Team challenge posts for me.
The first is
FCCB
- "Trains, Planes and Automobiles"
The Second is
BBTB2
- "Honor 911"
So please check out both my posts and join us for the challenges.
My good friend Brenda is challenging us this week at
BBTB2
to create a project honoring 911.
I made a card in honor of all the fire personal who lost there lives this terrible day. My husband was a fireman for 33 years before retiring so firemen and women are near and dear to my heart. If you have really good eyes you will notice I wrote 911 on the little bell with a gel marker.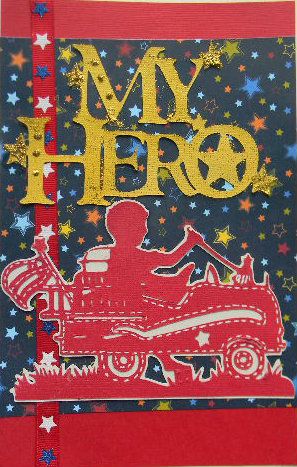 I used ACY for the little guy on his firetruck cut at 3.5 inches and the My Hero comes from Stand and Salute cut at 3 inches. Ribbon was from my stash. Star paper left over from baby shower goodies. Lots of gel pen stirching and Stickles on the title.
I hope you will join us this week for the challenge and link up to
BBTB2.
Happy Craftin