Today I finished the 3 cards I was working on for a variety of challenges. I used Wild Card and a Cuttlebug flower folder that cuts and embosses the individual petals. I weaved through the holes in the flowers and then covered inside with same cut. I then tied a bow, stamped Thanks, and added rhinestones and a charm with a triangular paper clip I got at office supply store.
Frosted Designs
Recipe using ribbon or trim, rhinestones or pearls, and a charm
For this card I cut three popsicles from Simply Charmed and added Peachy Keen faces. I used chalk on cheeks, mouth and edges. The little drips are little teardrop stones. I did not have green so died a clear one with Alcohol Inks. The stamp was one that said You're Sweet with a cupcake in the middle of the two words so I cut cupcake out and used some mini stamps to stamp so. I also used the MS drippy goo punch for the dripping popscicle.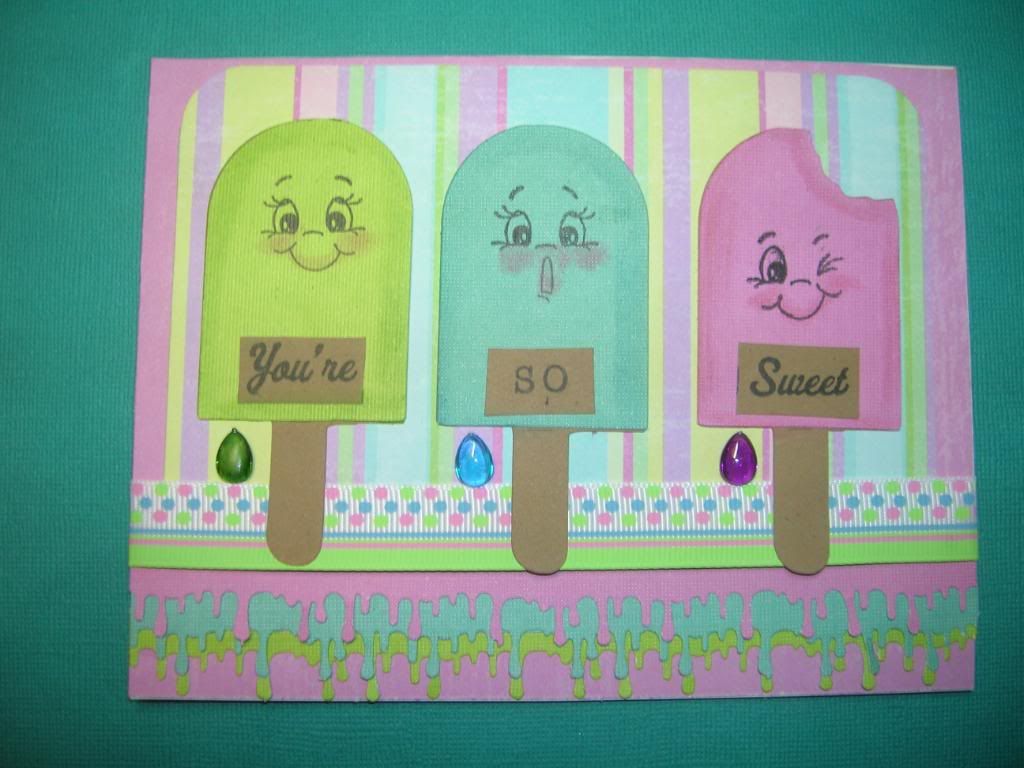 The last cards was also from Simply Charmed page 39. There are two very cute flowers on this page that are great with Peachy Keen Stamps. This card was made from scrap paper I have from a Celebration stack. The smaller striped flower is the piece that punched out around face. So I used it too. Stamp for $1 bin at Michaels.