Hello everyone! Suzanne here with your challenge this week at BBTB2. I hope you are all eagerly awaiting a new challenge after our break last week. I know I was.
Today is a big day of resting for me. The last few weeks I have been creating like crazy for the Charity Auction at my LSS last night. I am now teaching there so many of my creations went on sale for the Wounded Warriors and Navy Relief Fund. It was an amazing auction and crafty people are some of the most generous people on Earth.
This week I am challenging everyone to think about Gift Giving and decorate a gift bag or tag
using a Cricut cut. Although I am crafty I often forget about this aspect. It is so fun to give a well thought out gift in a gift bag, box or container that you took the time to create and with an adorable homemade tag.
For my project I used the new Creative Memories Holiday Tags for my tag shape. My gift box is an explosion box made with the new Mini Carts. I made the box at fit to page for the largest cut and then went from there. I used K and Company double sided paper from the last couple years. This is perfect for an ornament or small gift.
I put a plastic ornament in so you could see the size but no this is not what I am putting in my box. LOL
I used tags from same paper stack to decorate the inside and to use on my tag on top. I also cut out a left over pointsettia and scored it for dimension for the top. I added gems and Stickles to bling it out.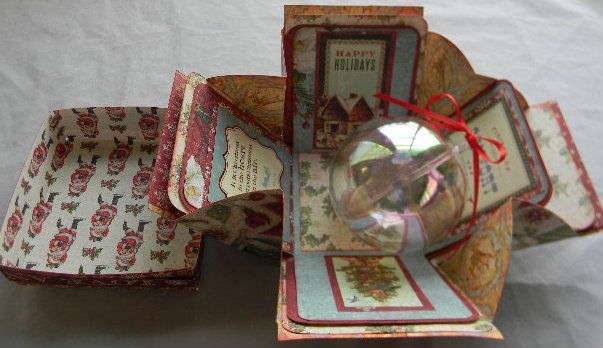 Remember the post will be going live with our Monday morning weekly posts
will be going live at 7:00 am EST. Remember to link your projects up here before the challenge ends next Sunday night December 11th here at
BBTB2.
We want to see your tags and bags.