If you are looking for my Lasting Memories post keep reading.
Today it is time for the Lasting Memories layout challenge. The challenge this week is to use the word LOVE on your layout. It does not have to be a Valentine theme but could be.
I had several ideas come to mind for this challenge. I decided to go with this title after flipping through pics of my granddaughters. I decided to scrap some of the pics of my eldest granddaughter Katie and her curly hair. Her hair is so gorgeous and every where we go people comment and want to touch it.
I came up with the title "Love My Curly Top."
I did use Valentine paper from a K and Company stack this year. I really love banners so used some of the banner cuts on the Cricut Birthday Bash cart. I used a piece of paper that had strips of different designs to cut out the banner shape so the banners had different designs. The different shapes for the banner were cut at 2 inches and the letters at 1.12 inch for the banner. The name Katie was cut at 1 inch.
Then I added some flowers from my stash and buttons. The buttons were tied with twine.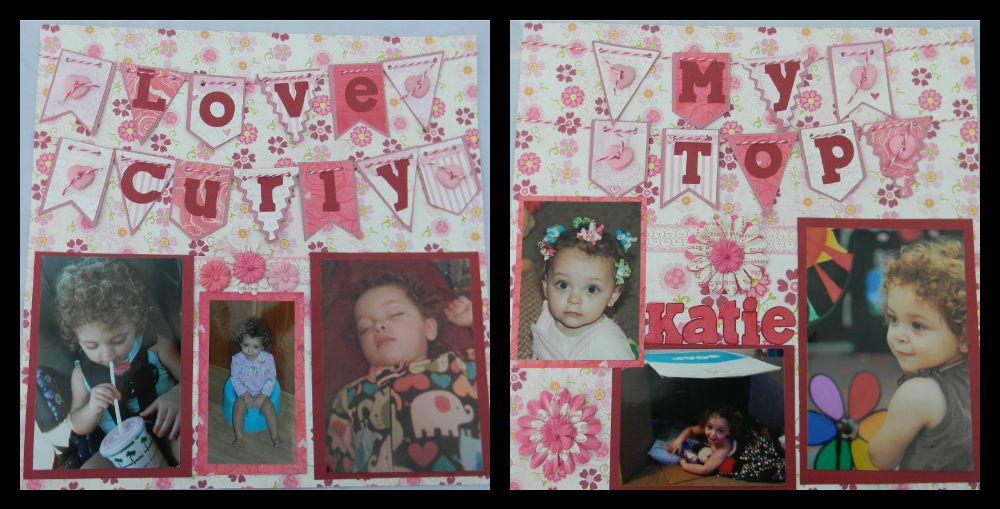 I am also entering this in the Frosted Design challenge- use the word Love on your project
I hope you will join us this week at Lasting Memories for the "Love" Challenge. We would love to see your creations.

Now onto this weeks challenge!! This week "

All You Need Is LOVE!!

" We want to see the word LOVE on your layout. Does NOT have to be Valentine, but if that works, go for it!! We can't wait to see what you create this week!!! Before we go, guess what!! In honor of her birthday, Michele is giving away an AWESOME prize package!!
Two sets of clear stamps from
Studio G
.
Four spools of ribbon from American Crafts.
Two packages of Epoxy Bubbles stickers from Studio G.
In order for a chance to win, you have to leave birthday wishes on Michele's blog AND join our challenge this week!!!! Super easy, super fun!!! If you'd like, you're welcome to use this sketch and link it up - but please remember, you have to follow our current challenge to be considered for TOP 3 and the giveaway.
So please join us and don't forget about the Cards for Emily going on right now.