Day 3
Thank you so much for all of you who joined in the Easter Blog Hop the last two days and left such wonderful comments. I really appreciate your comments. Remember for each day you can leave a comment and get 4 chances to win. If you miss a day you can still go back and leave a comment. I will choose the winner by random.org on Monday morning. Sorry I forgot to post my Blog Candy last night. The
winner of my blog will receive a $10 gift card to either Michaels or Joanns (your choice).
All the Blog Hop details and the participants are in my post for April 7th if you need more information.
Easter Banner -

This project was made to use some of the Vintage Easter cards I bought in a pack at my local LSS. I decided to make a banner so everyone could enjoy the cute little pictures. I started with precut out egg shape I found in Children's sections at Michaels and traced papers and cut to fit. Each egg was cut and decorated with ribbon, lace, trim, and vintage Easter cards. The Easter letters were cut from Storybook. I wanted to decorate the Easter eggs with lacy look edges. I used several different MS punches and cut 2- 12 inch borders for each egg. I then cut into borders 1/2 or so towards border so I could curve straight edges around egg and glue down. (See picture of back) Next I glued ribbon across backs of eggs and then covered each egg with another cutout paper egg. This is the banner hung in my kitchen.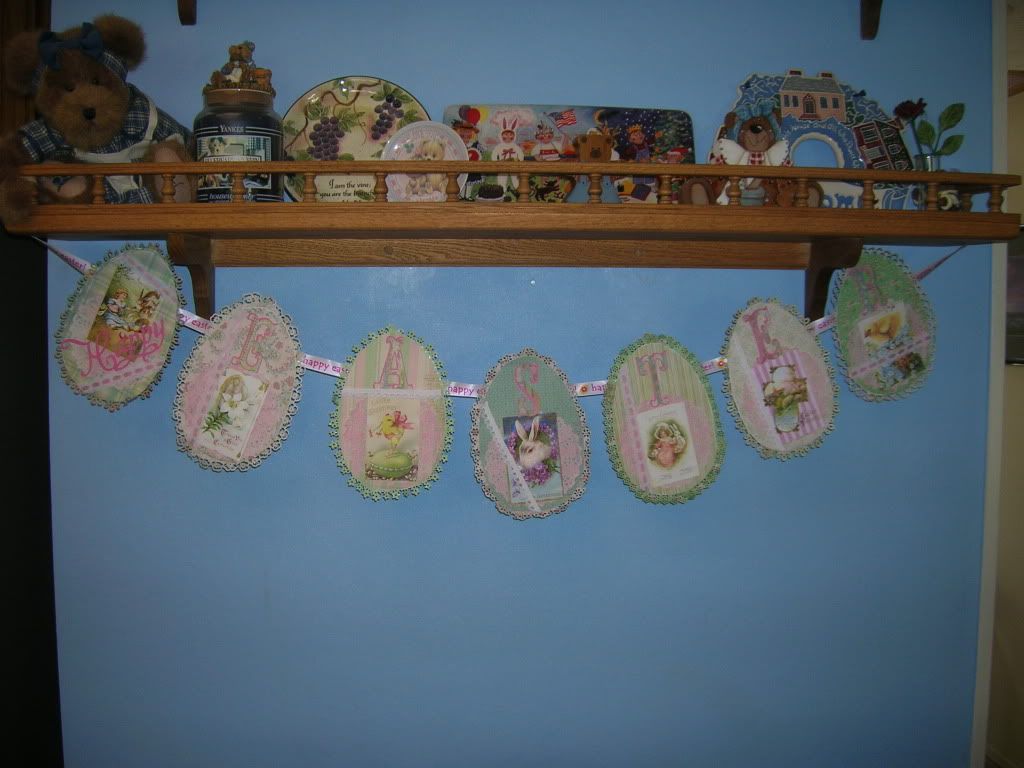 Closeups of eggs and borders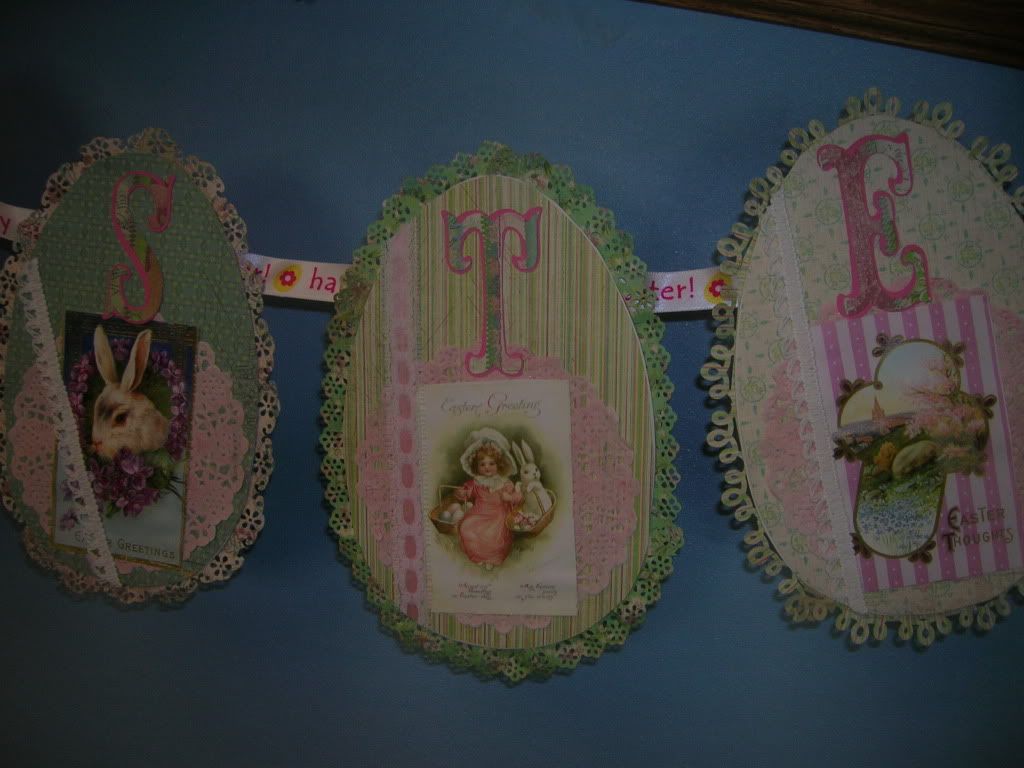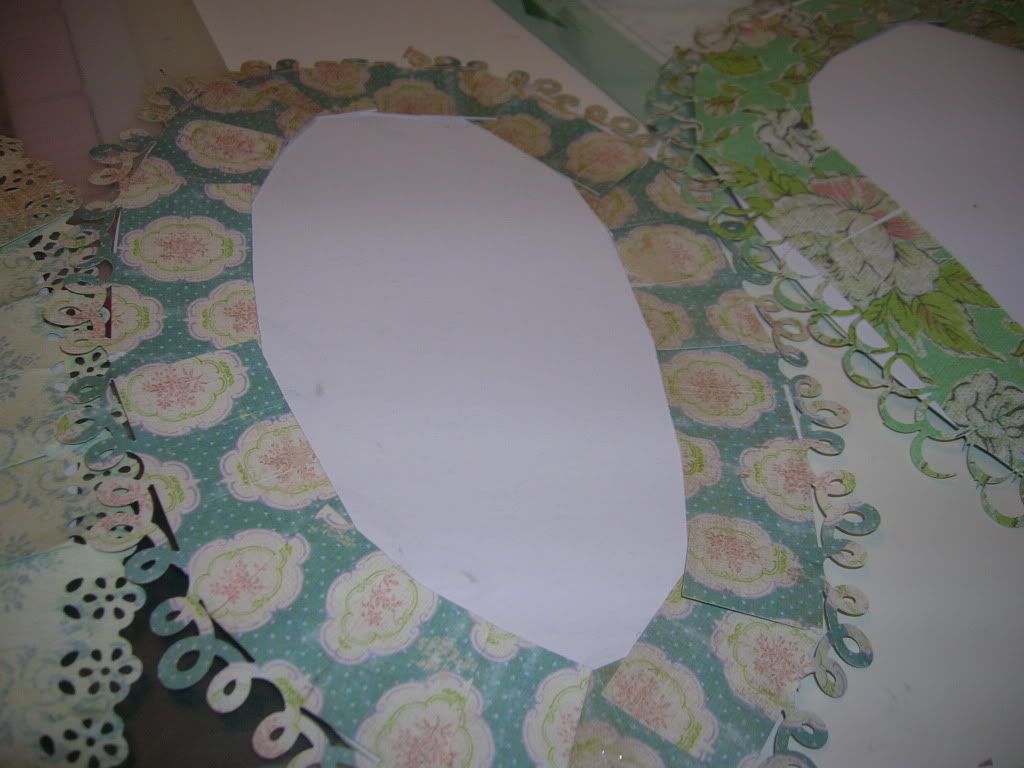 This is the back so you can see how to curve it around shape.
SU Stamp card

- I posted this last week in my blog but I wanted to share it again. A friend of mine Brenda made a card with this and I fell in love with it. Brenda set me up with her SU rep and this is what I came up with. This is the card I am giving my two daughters for Easter. I used the wrong kind of dark blue ink so when I put the Diamond (white) Stickles on it began to run. I thought I had ruined it and would have to start over but then I realized I really liked the way it looked so continued.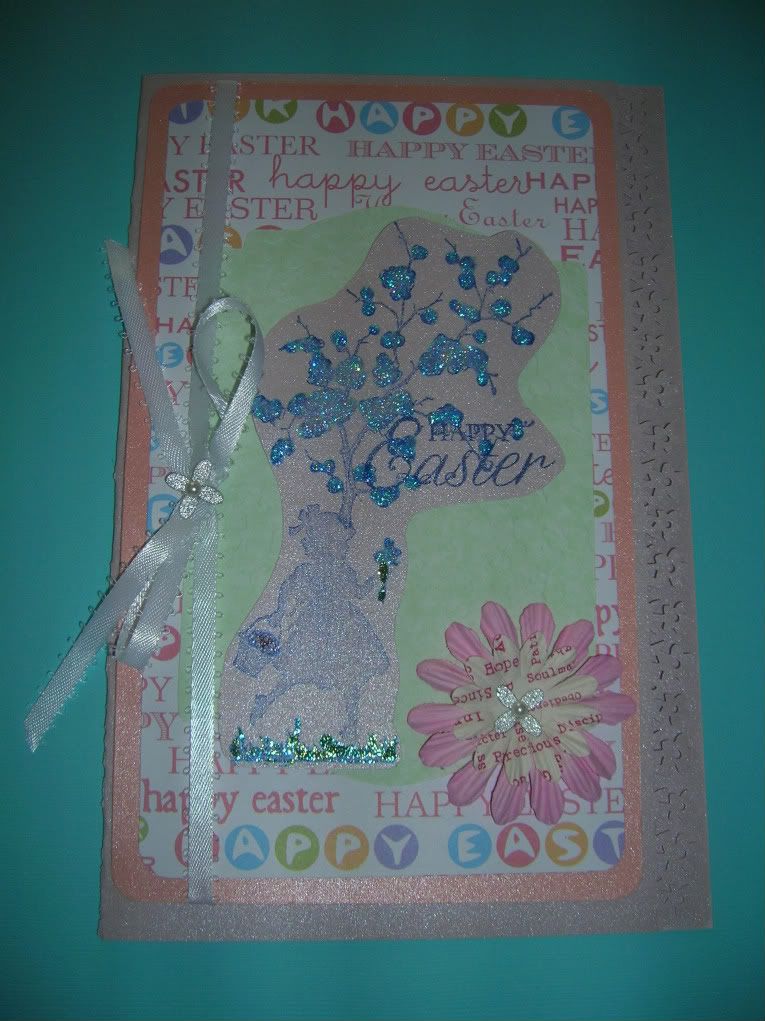 Tomorrow I will be posting an Easter Vintage layout and my last card. Have a great weekend.